Summary Care Records scheme "at risk" - confidential draft report
The Summary Care Records scheme has yet to gain Treasury approval, which puts the future funding of the project at risk.
SCRs are central to the success of the £13bn National Programme for IT in the NHS [NPfIT]. SCRs were launched in March 2007 when patients in Bolton became the first in England to receive information telling them about the introduction of the new electronic Summary Care Record.

Download this free guide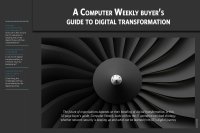 Computer Weekly's buyer's guide to digital transformation
Download this 14 page buyer's guide to discover how the IT operation can lead strategy, whether network security is keeping up and what can be learned from GE's digital journey.
Since then, GP practices and primary care trusts have uploaded more than one million patient records onto a central Oracle database run by BT under an NPfIT data "spine" contract; and the Department of Health has paid financial rewards to dozens of primary care trusts for undertaking a public information programmes on the Summary Care Records scheme before March 2010.
SCR runs for 3 years without business case approval by HM Treasury
The Department of Health has told me several times over the past month that the business case for the SCR scheme is "in the process of being approved". But a confidential draft report on the SCR reveals that the scheme has been operating for three years without the Treasury's approval of the business case.
The draft report by researchers at University College London, says that the non-approval of the business case is seen as the "biggest risk" to the programme by NHS Connecting for Health.


The UCL report was commissioned by Connecting for Health. Ministershave decided not to publish it until later this year although it was dueoriginally to have been published before the general election next month.
TheTreasury approves business cases when the full costs have beenidentified and justified, when there is proven support fromstakeholders, and the benefits are clear, though the Treasury allows forsome assumptions to be made.
SCR rollout continues despite asuspension in some areas

Last week the Department of Healthannounced that uploads of summary patient information will be halted inareas where the roll-out had been accelerated. No clear reasons weregiven for the suspension: the Department of Health said the roll-out would be delayeduntil there were better awareness of the scheme.
The Department'sspokesperson told me that the suspension had nothing to do with theTreasury's lack of approval so far for the SCR business case.
Theroll-out of summary care records continues in "early adopter" and "fastfollower" areas where SCRs have already been created.
Treasury refuses to sign offbusiness case for SCR or "Healthspace"

UCL's draft report,which was completed last month, said that the business case for SCRs hadbeen signed off by the Department of Health's Capital Investment Board,and by a health minister, but not by HM Treasury.
The report alsoreveals that the original business case for Healthspace, which wouldallow patients to see their SCRs, has not been approved. Funding forHealthspace has been allocated for one year from January 2010, says UCL.
Willthe next government scrap the SCR scheme?

It's unclearwhether the next government will continue with the SCR once itestablishes the benefits and the rate of progress. The draft UCL reportsays there is limited evidence that SCR benefits identified in earlypolicy documents have yet been realised.
Last monththis blog revealed that the SCR database contains inaccuracies andomissions that make it difficult for doctors to trust it as a singlesource of truth.
UCL's draft report said that BT considered its NPfIT "Spine" contract to be high-risk. Some BT staff told UCL that the originalspecification had been set in board-level meetings where insufficientattention had been paid to the perspective of front-line users.
CfHlet the BT contract at £620m though it's now worth more than £1bn to the supplier.
SmallIT suppliers tended to have a close and responsive – agile -relationship
with their customers and a good understanding of theirday-to-day business lives
Some told UCL that CFH staff did notfully understand clinical work in primary and unscheduled care and thatdeadlines set for delivery of technical solutions were unrealistic anddriven by political considerations.
**
Confidentialreport on Summary Care Records finds database is inaccurate – ITProjects Blog
SCR rollout suspended – E-Health Insider
IsCfH in a good position to oversee the NPfIT? – IT Projects Blog
Accelerateduploading of SCRs suspended – Kevin Townsend
DHsuspends SCR upoads – Pulse
Summary Care Record shelved on a good day to bury bad news – Pulse
Cleggcriticises ID cards and the NPfIT – Kable
Medicalrecords database for patients in England halted – ScottishHealthcare
SCRopt-out isn't easy says Janet Street-Porter – IT Projects Blog
SCR – the truth or nothing like it? – IT Projects Blog
.