Prime Minister puts weight behind open source software push
The Prime Minister's office has put its weight behind a drive to make the government's open source policy overcome the obstacles that have seen it flounder for the last two years.
Word of Prime Minister Cameron's intervention came as the Cabinet Office unveiled a raft of measures to designed to fulfil the coalition government's policy commitment to "create a level playing field for open source". The Cabinet Office is working on an open source reference stack, a software assessment model, a CIO training programme and an system to survey open source use in government and finger those departments who don't do enough.
"Number 10 are pushing this," Tariq Rashid, lead architect of the Home Office Technology and Solutions Assurance Team, told Computer Weekly.
Rashid, who was helping the Cabinet Office unearth the reasons why systems integrators have ignored the government's open source policy, said there had been more pressure from Number 10 over open source than there had been from the Cabinet Office, which was responsible for the policy.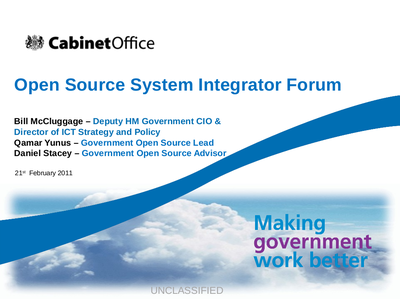 The Cabinet Office told systems integrators the Prime Minister was pushing the open source policy when it assembled them for a telling off on Monday, said Mark Taylor, CEO of Sirius Corporation, an open source supplier who attended the meeting.
<<< Read the presentation to the Cabinet Office's first Open Source Integrator Forum <<<
The first meeting of the government's Open Source Integrator Forum was a dressing down in which the big 12 systems integrators, who supply 80 per cent of all government IT, were told firmly that they were preventing the government from carrying out its policy and had better change their ways.
Reform
The Cabinet Office this week trailed a series of programmes designed to break the open source deadlock. First among them was a promise to create an open source reference stack: a certified list of software that when put together could create an assuredly functional system.
A meeting of the British Computer Society heard on Tuesday night how the government relied on reference stacks produced by the leading software vendors in preference of their own applications and those produced by their strategic allies. The practice excluded competitors and left procurement professionals across government ignorant of alternatives even when they were better and cheaper.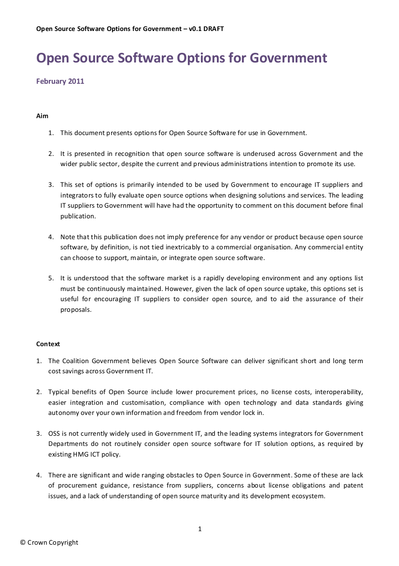 >>> Read the government's draft list of approved open source software >>>
The Cabinet Office was also working on a draft software assessment model after losing patience with systems integrators whose own assessments typically failed to approve open source alternatives to software produced by the dominant corporations.
Rashid told integrators about the plan on Tuesday: "In my experience, when we've spoken to some of the integrators there's been a reluctance to work with some open source software that this department's wanted to work with. Systems integrators say the software isn't suitable."
"Quite often, the refrain from the integrators is that the software is not appropriate, not mature enough and not suitable based on their internal assessment approach."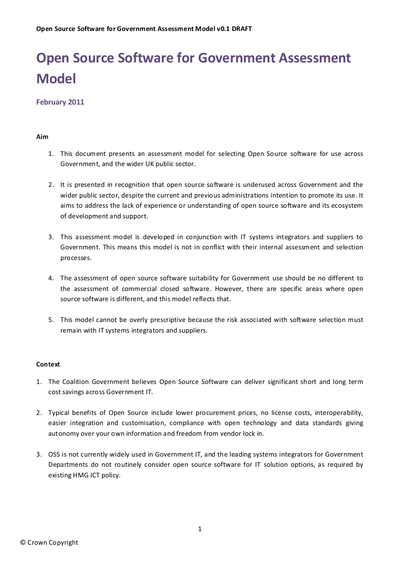 One way we can try and help that is if the Cabinet Office starts producing an assessment model to separate good software from bad software, looking at things like support, how established is it, is there good governance around development, these sorts of things. That would enable customers to say, 'We want to use WordPress and according to this model it's not going to fail'".
<<< Read the government's draft Open Source Assessment model <<<
Rashid said the Cabinet Office was also planning to put departmental IT heads through an education programme after discovering they "aren't as up to scratch in open source technologies". The education programme may extend to those people overseeing procurement reform under the Cabinet Office's IT Strategy review.
"We have people looking at it, but they are not really experienced in setting out procurement paths to open source," said Rashid.
He asked the open source community to contribute to the Cabinet Office's draft policy documents.
Cabinet Office was also formulating a means of checking to see if departments were implementing the open source policy, and giving growing consideration to open source software. This would be something short of an audit, said Rashid, but the Cabinet Office would use it to finger departments that were not stepping up.
Other elements of the initiative include an Open Source Advisory panel, being led by campaign group Open Forum Europe. This is intended to act as a counterweight to the Open Source Integrator Forum, populated by the systems integrators believed to be blocking government policy. A cross-government Open Source Implementation Group will have its first meeting in two weeks.
Computer Weekly understands the open source policy was put on the shelf last year when the Cabinet Office declared its IT contracts moratorium and required every hand to go through proposed procurements with a cost-cutting comb. Qumar Yunus, employed to lead the open source policy, was put straight on the moratorium instead. He came off it only in recent weeks.
A spokesman for Number 10 avoided answering questions about the Prime Minister putting his weight behind the open source policy.