MPs pooh-pooh happy clappy ICT strategy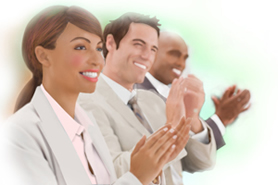 MPs had fun with the government's ICT strategy at yesterday's sitting of the Public Accounts Committee. What was it, a novelty act? Some sort of new-age frippery?
It was "motherhood and apple pie", said PAC chair Margaret Hodge MP. No-one could disagree with anything in it.
But she wasn't satisfied.
"Cabinet Office didn't deliver in the past," she said. "What on earth will be different this time?"
Austin Mitchell, MP for Grimsby, said the strategy exuded good intentions. But it didn't have any heft. There were no baseline numbers and no targets on which it could be measured.
PAC is used to dealing with more substantial fair, and has on occasion got high-gauge ammunition from the National Audit Office, on which it bases its inquiries.
But the NAO report from which this PAC inquiry took its lead – February's ICT Landscape Review – was even less substantial than the Cabinet Office ICT Strategy. It was like an ambiguous coalition statement on ICT transformation for the 21st Century, re-imagined as a Peter & Jane picture book. It wasn't substantially different from the ICT strategy.
Most entertaining of all was NAO's claim that "80 per cent of central government ICT work is undertaken by 18 suppliers."
This battle cry for the coalition ICT strategy was given credence by the NAO report. But the NAO told Computer Weekly it couldn't substantiate the number.
"This statistic was based on an interview with the government," said an NAO spokesman. "It was okayed by the Cabinet Office but we don't have any audited data to back it up. It was a senior level civil servant who has since left the government."
Post-new age age
The stat actually derives from references provided by numerous reports written on the matter in recent years by the likes of Eton's Liam Maxwell, Cambridge University's Mark Thompson, and other alumni of the Cameronian Network for a Post Bureaucratic Age (NPBA), on whose work the Conservative and then coalition ICT strategy was based.
It goes back to 2004 when academics estimated 80 per cent of UK government ICT was delivered by just 5 firms. It was updated in 2009 by estimates supplied by Kable, the research firm founded by William Heath, the NPBA compadre behind Mydex, the ID assurance system favoured by the coalition to fill the hole left by ID cards.
The point, as Cabinet Office chief operating officer Ian Watmore told the Committee yesterday, is that government information on precisely who is doing what with whom for how much is poor. The Cabinet Office major projects authority was getting a grip on it. But it had, since committing to the task in August 2010, still not defined precisely what a major ICT project was.
NAO said it was trying to design a mechanism to benchmark IT spend, and presumably power hierarchies. The Office of Government Commerce, recently subsumed into the Cabinet Office, vowed to address the issue when it was founded in 1999. Ten years later, it was still asking suppliers what government had bought from them.
Post-private outsourcing
There are anyway no detractors to the smash-the-ICT-oligopoly policy. Even the major ICT suppliers have refused to tell Computer Weekly what's wrong with it.
As well they might. Hodge said 65 per cent of government ICT was delivered by the private sector. And 100,000 of 135,000 government ICT professionals were employed by private companies.
"The private sector have been the problem," she said. "We've seen a small oligopoly of providers who have ripped the government off. They've been very expensive, have delivered late and not delivered to specification."
"Your point about the oligopoly is correct," said Watmore, though he was less certain about whether they could be proven liable contractually.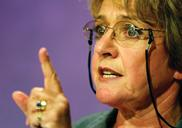 Insubstantial as it was, the NAO report had at least catalogued promises government had made to fix the IT problem over the years. Hodge liked the 2001, 2003 and 2008 attempts to employ more SMEs.
Post-gate
Watmore, who was head of ICT strategy for the last Cabinet Office just as he is for this one, reckoned this time was different.
"We are finding a way for SMEs to come in, and not just underneath some of the prime contractors, where they get smothered and we pay double margin," he said. An SME tsar, Stephen Allott, had been appointed.
Something else he had changed were Gateway Reviews, introduced in 2004 as a means of preventing expensive IT failures. They had failed. So we've now got a… what was it called? First Gate? Starting Gate? Pouting Gate?
Whatever it's called, it's been rebranded and stuck in an earlier stage of the systems lifecycle where it is hoped it will prevent "very famous politicians making big commitments", as Watmore put it, or over-selling by ICT suppliers "who will say whatever it takes" to win a £2bn contract.
And so the government would be using Agile methods, training staff, consolidating data centres and so on. It was still ultimately sacking civil servants and relying more on the private sector. The NAO will really have its work cut out when New Labour's ICT oligopoly is disbanded and the collaborative age ushers in its apparently amorphous new clique of SMEs.