Inquiry behind NHS scandal omitted crucial data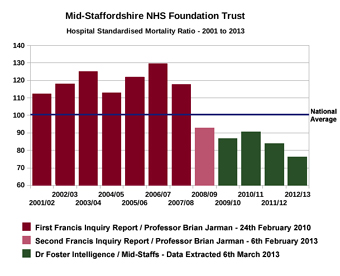 The Francis Inquiry into Mid-Staffordshire NHS Foundation Trust omitted key data showing how the hospital made drastic improvements immediately after it was warned that its death rate had risen alarmingly in 2007.
The data contradicts a key finding of the Inquiry, which was that Mid-Staffs did not give enough credence to the 2007 warning and did not respond to it quickly enough.
It raises serious questions about the reliability of the conclusions reached by Robert Francis QC, the medical negligence lawyer who conducted the inquiry. And while the grossly misrepresented statistical records of deaths at the heart of the Inquiry continue to be linked by members of the coalition government to the fact that the NHS is a public body, their consequent calls for reform rely on incomplete evidence and false conclusions.
Mid-Staffs' death rate dropped to below average the year after the 2007 warning, when the hospital took a variety of measures to root out the cause.
It has been better than average every year since Francis began his Inquiry in 2009, and was so good by the time Francis made his final report in February this year that it put Mid-Staffs among the UK's top 15 performing hospital Trusts.
Francis neglected to report the immediate improvement when he made his first report into Mid-Staffs in 2010. He then neglected to show its continued improvement when he published the Inquiry's final report last month.
Yet his condemnation of Mid-Staffs hinged on a claim that hospital staff did not do enough to respond to the 2007 warning.
Misleading
His condemnation led him to call for criminal sanctions against officials who gave misleading or erroneous reports about health data.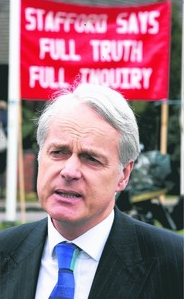 "Information provided to the public should be balanced, truthful and not misleading by omission," he said on publication of his final report from the Inquiry on 6 February.
"It should be a criminal offence to be party to a wilful or reckless false statement as to compliance with safety or fundamental standards," he said.
Francis' report recklessly portrayed data that showed Mid-Staffs in a bad light without contrast to data that showed how quickly it had responded to the 2007 warning.
Mid-Staffs' death rate was well above the national average when the crucial warning was issued in April 2007. Its rate for the prior 12 months had been 130, compared to the national average baseline of 100.
But in the very year of the warning, as Mid-Staffs staff took immediate measures to tackle the problem, the Mid-Staff average fell to 118.
Mid-Staffs had already reduced its death rate well below the national average, to 93, by 2008, the year immediately after the warning.
This meant that though the death statistics had predicted 881.5 people would die of a serious illness like cancer at Mid-Staffs hospitals that year, only 818 people actually did.
Those 818 patients were among more than 17,000 people Mid-Staffs treated for serious illness that year. It beat the statistical forecast of deaths with which unscrupulous and misinformed reformers have been bludgeoning the NHS. The stats predicted 5.1 per cent of those patients would die in 2008. 4.7 per cent actually did.
Improvements
Mid-Staffs went on making improvements that Francis neglected to consider when he condemned the hospital for not heeding the 2007 warning.
Mid-Staff's death rate fell further below the average in 2009, the year before Francis published his first report, to 87.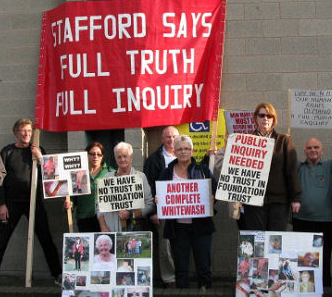 Francis neglected to publish Mid-Staffs below-average death rate for either 2008 or 2009 when he published his findings in the first Inquiry report on 24 February 2010.
Mid-Staff's death rate remained better than average in 2010, though it had risen slightly, to 90.
It fell again in 2011, to 84, according to data readily available to the Francis Inquiry. It fell again in 2012, to 76.
Yet Francis' report on 6 February this year showed data for just one of five years to 2013 in which Mid-Staff's performance was better than average. It showed just two of those six years from 2007 when Mid-Staff's death rate fell.
Francis did report that Mid-Staffs' death rate fell to 92 in 2008. But he neglected to report its better-than-average rate for 2009, 2010, 2011 and 2012.
The Inquiry report focused attention instead on controversial questions regarding the way Mid-Staffs and other hospitals classified patient outcomes, a process called coding. The controversy left a question over Mid-Staff's improvement in 2008, despite the major questions about coding having since been settled.
Silence
But the persistence of Mid-Staff's better-than-average death rate every year since the warning can leave little question about the high quality of care at the hospital.
Had Francis shown this data it may have altered the outcome of his Inquiry.
The public relations contact of the Inquiry has not responded to the question of why it did not publish data that showed Mid-Staff's improvement after 2007.
It has been responding intermittently to Computer Weekly's enquiries in the last fortnight, which last week included the revelation that reports about its findings had grossly misrepresented Mid-Staff's death statistics.
The Inquiry has, however, admitted to Computer Weekly that it has not published key evidence.
Though it has purported to have published all evidence it received, it has neglected to publish documents that are also crucial to its allegation that the trust did not respond adequately to the 2007 warnings for the sake of ensuring its health care was up to scratch.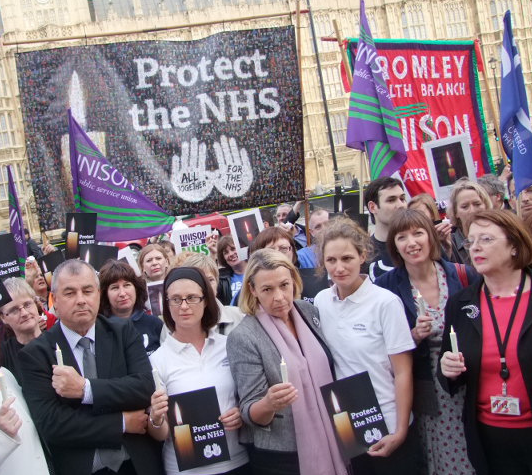 The latest revelations about Francis' treatment of the crucial data about Mid-Staffs improvement raise questions about how balanced his own judgment was of the affair.
That is not to say he was wrong to condemn Mid-Staffs for those many anecdotal reports of occasions, from among more than 155,000 patients treated for serious conditions at Mid-Staffs between 1996 though 2008, where patients who had been in receipt of shockingly poor care had died.
It must however be asked whether Francis gave too much credence to historical, isolated incidents and little to evidence that ran contrary to his claims that Mid-Staffs had mishandled the 2007 warning.
Omission
Francis could have readily obtained the data that he omitted.
Computer Weekly obtained the latest data about Mid-Staffs in a matter of minutes. There was no question that Francis could have shown how Mid-Staffs had improved by referring to the same data, called the Hospital Standardised Mortality Ratio (HSMR).
Professor Brian Jarman, whose work in health informatics at Imperial College developed the statistics that sparked the 2007 warning, supplied Computer Weekly with data without delay this week.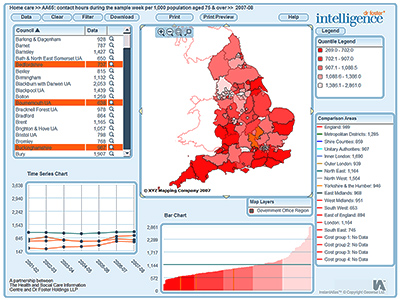 Similarly, Mike Alldis, corporate information analyst at Mid-Staffs, generated the data in a matter of minutes while Computer Weekly was on the telephone, and sent it straight away in an Excel spreadsheet.
Alldis was able to extract the data using standard database queries he made using a computer system supplied to hospitals by Dr Foster Intelligence, a commercial spin-off of Professor Jarman's Imperial College unit.
Francis' Inquiry could have got this data. It instead relied on submissions direct from Professor Jarman himself, which it published verbatim in both its 2010 and 2013 reports. Jarman's submission to the 2013 Inquiry included Mid-Staffs death average only to 2008.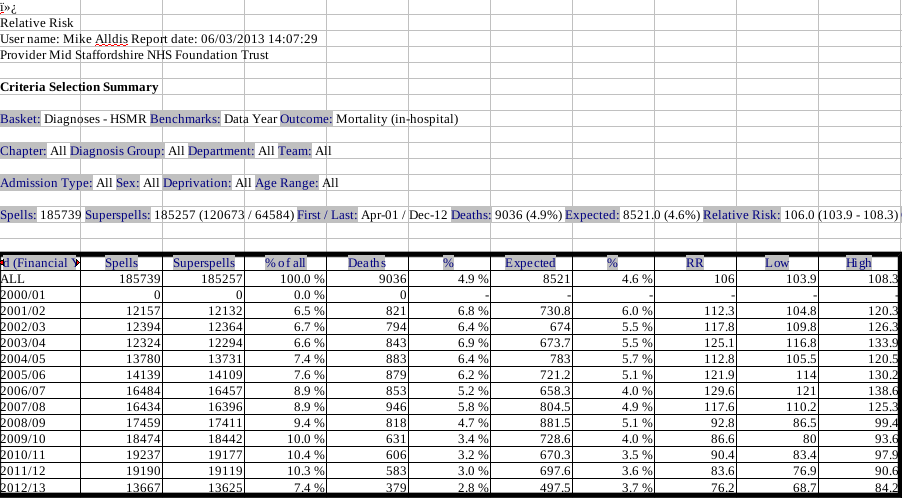 The Professor's key submission of Mid-Staffs death averages omitted crucial years that showed it was better than average in 2009, 2010, 2011 and 2012.
Jarman told Computer Weekly that data for Mid-Staffs after 2009 would not be relevant to the Inquiry. He said the Inquiry's terms of reference were to examine the Trust's performance only up until 2009.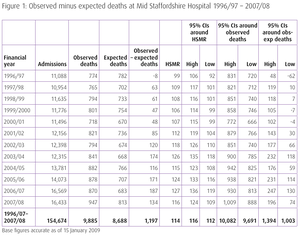 Imbalance
Francis' 2010 Inquiry was indeed asked to report on incidents at the Trust between 2005 and 2009.
It nevertheless reported unfavourable death statistics going back to 1995, for years when the data was state-of-the-art and its reliability highly questionable.
Yet it neglected to report the one year that then already demonstrated rapid improvement at Mid-Staffs.
The 2013 Inquiry report published the same, damning historical data, but excluded more recent data that showed Mid-Staffs in a favourable light. The more recent data was more reliable.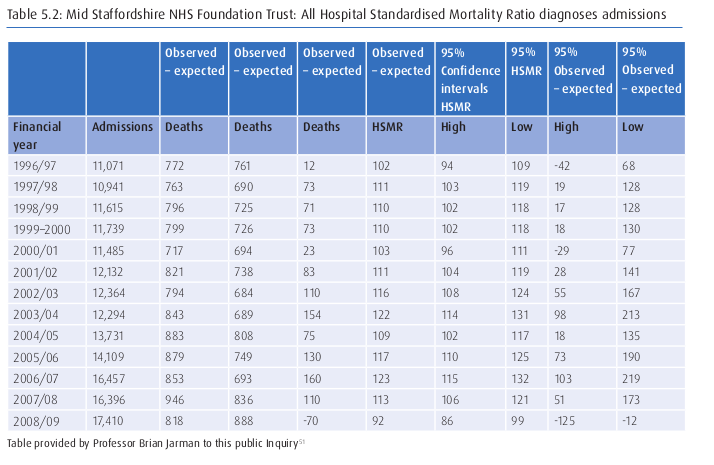 The 2013 report's terms were also broader than 2010. Its key conclusion – that Mid-Staffs had not responded to the 2007 warning – could not have been judged properly without considering the marked statistical improvement.
It was reckless for Francis to damn Mid-Staffs with statistics and then not show how those very same statistics undermined his key accusation.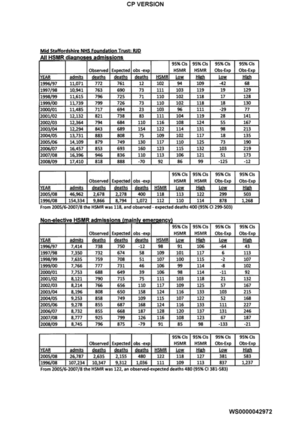 The 2013 Inquiry report relied for HSMR data on a table it copied from evidence submitted by Jarman and referenced BJ/14. That table neglected to show the improvement at Mid-Staffs in 2009, 2010, 2011 and 2012.
Jarman said he supplied the Inquiry with more recent HSMR data for Mid-Staffs, in a graph on slide 38 of a 96-slide presentation he submitted along with 663 other pages of evidence.
That graph, referenced BJ/59, showed the rapid improvement in Mid-Staff's death rate after the 2007 warning – but only to 2010.
There was no evidence that Francis took notice of this slides' report of Mid-Staff's better-than-average performance between 2008 and 2010.
Nor did the 2013 Inquiry report demonstrate that Francis took notice or even sought to learn how Mid-Staffs continued to improve in 2011 and 2012.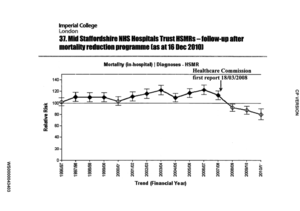 Francis said on publication of his report on 6 February that Mid-Staffs failures in handling the data had betrayed public trust in the NHS.
Francis' own failures in handling the data might have betrayed public trust in the Inquiry.