DWP ID Plan - read the Restricted report
Why would the DWP have supported the hair-brained Home Office plan to commandeer its computer assets for the Identity Card Scheme? Vanity, of course.
You can see what the DWP thought of the plan by reading the restricted policy document that comprised its approval, Use of the Customer Information System as a shared, cross-Government asset.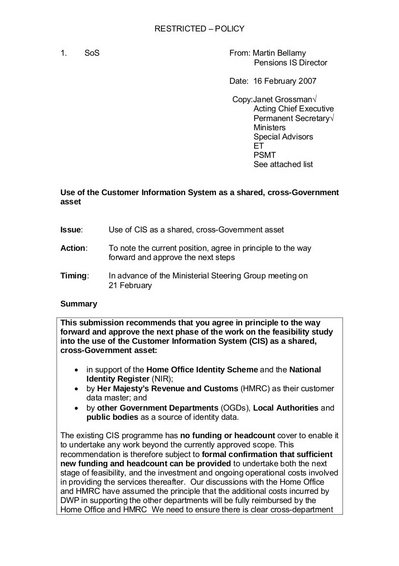 The DWP fawned over futile ID plan. "Pioneering," they called it. You may remember, the idea was to take Europe's largest public database of personal records, the DWP's Customer Information System (CIS), and bolt it onto the ID system to create a biographic record of everyone who carried an identity card.
It was to be the first project of its kind in the history of government. It would put the DWP at the vanguard of the Labour government's Transformational Government strategy.
"Using CIS as a shared cross-Government asset puts DWP in the lead in the Transformational Government Strategy and cross-Government co-operation. Sharing CIS supports some of the Government's most important strategic goals such as joined-up Government and the re-use of assets. It allows the release of efficiencies across the system and supports delivery that is more focused on customer needs."
Thus enthused Martin Bellamy, the DWP's then Pensions IS director. To be fair on Bellamy, who is now ICT Director for prisons, he did say the obstacles should be cleared before the work went ahead. So why did he and the IPS recommend going ahead without first eliminating those problems that, it would later transpire, were insurmountable?
Bellamy's preliminary feasibility study gave the cross-departmental green light despite the plan's gaping holes.
But the final word came from the Identity and Passport Service, whose official Feasibility Study gave ministers the confidence to approve the flawed plan. We'll come back to that later.
For now, one might say that hindsight is all very well, and feasibility is an art, not a science. Feasibility Studies are technical manifestos: a declaration of intent; a conspectus of what consensus there is to have something done. The art of the feasible is always a gamble. Done properly, however, it gives the odds; it doesn't attempt to swing them.