CSC bags phone support for cyber warriors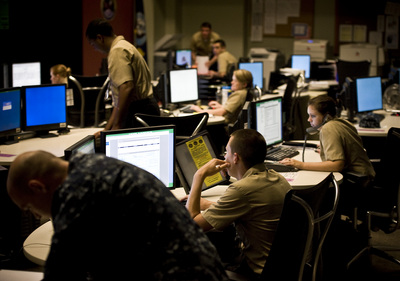 Troubled US outsourcer Computer Sciences Corporation has been offered $145m to do telephone support for US cyber warriors and other grunts connected to an overseas extension of the Navy Enterprise Network.
CSC refused to confirm the contract. But details slipped out in an official procurement notice issued by the Pentagon.
The US Department of Defence said CSC would provide information assurance as well as technical support for ONE-NET*, an adjunct to the HP/EDS-built Navy Enterprise Network, dubbed by generals as the largest corporate intranet in the world.
The Navy has agreed to pay CSC $30.6m for 12 months initial work supporting Fleet Cyber Forces, a unit of cyber warriors hooked into ONE-NET in 16 naval bases in the Asian Pacific, Indian Ocean, Persian Gulf and around the Mediterranean.
DoD said CSC will provide "theater service desk support", field and network technical support, and help operate the network and systems associated with ONE-NET.
The Navy offered CSC possible contract extensions that could pay out $144.7m by 2016. It comes at a crucial time for CSC after a year of bad news, a resurgence of talk about it being a potential take-over target and the pending retirement of CEO Michael Laphen.
Similar extensions have for years given CSC a regular trickle of contract-win announcements for support work on ONE-NET under a previous contract that was due to expire. The last was awarded in March for just six months.
It's share price languishing, it will be under pressure to deliver some good news when it announces its second quarter financial results on Wednesday, particularly in a year when the majority of its announced customer wins have been options customers have taken out under existing contracts.
Bigger fish
The ONE-NET support deal is however small fry for bidders in Washington this winter. The Navy is organising contracts worth a reported $1.7bn portion to implement its Navy Next Generation Network (NGEN), a $10bn programme to continue work done to consolidate networks and plug gaping security holes.
The Navy has bragged that its core intranet has proved unshakeable. It had entirely eliminated network disruptions caused by hackers that, it has been implied, had embarrassed operators of the force's formerly unmanageable network-of-networks.
It did this after spending 10 years consolidating its jungle of disparate networks into a single homogeneous whole called the Navy Marine Corps Intranet (NMCI), under contract with EDS (now HP).
By 2010 it had merged 744 separate Navy networks and deleted 24,000 legacy applications, leaving just 9,000 officially-approved software programs. It is set to become NGEN and is up for grabs.
Baited hook
CSC is bidding for the work with General Dynamics, which built ONE-NET and has outsourced its own IT to CSC since 1991, most recently under a $118m contract.
CSC brought out the big guns to win a piece of NGEN, hiring retired Rear Admiral Kenneth Deutsch last month to lead the bid. Deutsch commanded air raids during the US invasions of Iraq and Afghanistan. He was also networks & comms chief for the Space and Information Warfare division of the Navy and had a lead position in Fleet Cyber Forces, the unit to which CSC is answerable under the ONE-NET contract.
But ONE-GEN has, unusually, begun operation as a civil-government asset.
The Navy recently wrote that it had also agreed to give the US government ownership of NGEN network as it proceeds with the transition from NMCI to NGEN, a move that may reassure those who, even in military circles, warn that the militarisation of the internet is a significant threat to civil society.
The Pentagon has meanwhile agreed to allow the US Department of Homeland Security to take lead responsibility for security of civilian networks, signifying at least some recognition that the majority of "attacks" used by elected representatives to justify the build-up of cyber forces were mostly of a criminal and not military origin.
The ongoing network consolidation led the Navy to remove discretion over network infrastructure from local units of the Navy. It attracted protest over the centralisation of control. But nevertheless delivered a series of consolidated Network Operations Centers, standing orders for server and storage management, a single database environment, and adherence to Federal systems security laws.
This has led, after some serious problems in systems consolidation overseen by CSC and other systems integrators, the Navy to declare it is pursuing a cloud strategy.
The Navy admitted that in its focus to date on network infrastructure it had overlooked the importance of the information it carried. Data had taken a "backseat" while it was concerned with physical interconnection.
The Navy said in January it would address the data issue by developing cloud-based software services and virtualizing its infrastructure. Both also have become central to CSC's strategy.
Navy consolidation also brought about common desktops and operating systems. ONE-NET users are being given 3.2Hz Dell PCs with 40Gbyte hard drives, 512Mbyte of memory and "a two-piece stereo speaker system", the Armed Forces Communications and Electronics Association reported in 2005. They were at the time being loaded with Windows XP.
* ONE-NET is a rare example of a nested acronym and was, it must be concluded, stencilled by network nerds plotting cyber-game-theoristic attack moves round a whiteboard in a poorly pressurised underwater missile base: the Outside Continental United States (OCONUS) Navy Enterprise Network (NET) – ONE-NET.