Boris campaign chief gives Twitter generals lesson in psy-ops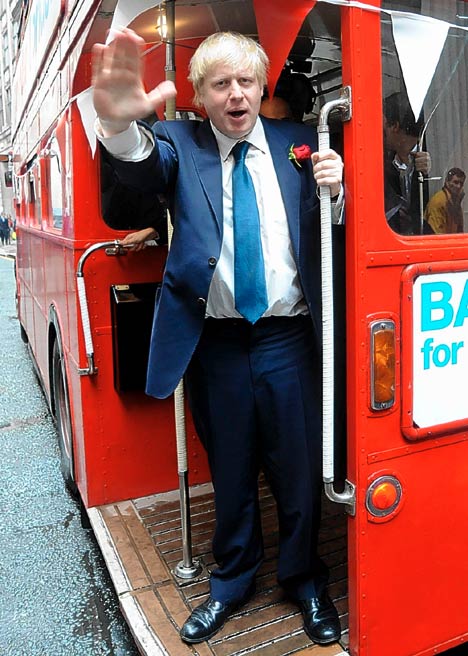 The chief of Boris Johnson's Mayor for London re-election campaign has been touting for advisory work with military propagandists seeking to persuade civilians to see things their way.
Your correspondent was thrown out of a conference yesterday as Lynton Crosby, campaign director for Boris Johnson, was due to take the podium before a room full of new media generals and consultants determined to grab information supremacy in the twittersphere.
Just a week after the Advertising Standards Authority shamed footballers for duping fans with covert advertising slogans on Twitter, Crosby was scheduled to tell the meeting of approximately 100 new media grunts "what politics can bring to military information operations".
His advice stayed behind closed doors after delegates complained to conference organisers IQPC that a journalist from Computer Weekly had been asking awkward questions and should be removed from the premises. But not before he had got an earful about the dark arts of persuasion.
The conference, which was sponsored by advertising agency M&C Saatchi, had already heard about the "tyranny of real-time journalism" and had the Occupy and Anonymous protest movements portrayed as threats to military propagandists.
While Twitter and Facebook were on everyone's lips, one military chief broke from the cover of anonymity granted by the conference's Chatham House rule to insist propaganda units were not permitted to work on civilians in their home countries – only those overseas.
General Edward Burnley, who completed a 2010 tour as head of the 2nd Psychological Operations Group of the US Army, said: "Social media is very controversial. Primarily forces use it more for public affairs. For US military forces it's a rule set down in law: we are not able to do influence or psychological operations activity that could possibly impact US citizens."
But experts warned the distinction had been lost in the twittersphere where information operations could not be confined to a "target audience".
"The future of communication is in 140 characters – that's Twitter and SMS," said one speaker following a briefing about the relevance of Somalian mobile phone penetration to a joint African Union and NATO counter-insurgency effort.
"This is an important topic," she said. "Military cannot influence an internal audience. But people from our country follow Twitter and Facebook so it's very difficult to use social media, because its difficult to create a borderline between external and internal."
We do what we're told
IQPC barred the doors when minutes later Chris Heidger, a sergeant in the US Army 4th Military Information Support Operations Command, gave a talk on how to use Facebook to change people's behaviour, drawing from the experiences of the US forces Balkans propaganda sheet, South East Europe Times.
Press were also excluded when Air Commodore Ian Wood spoke about the UK Ministry of Defence's plan for information targeting operations.
The rest of the conference was a strange concoction of cynical indoctrinational strategies and valiant reports of marketing campaigns run by soldiers in Afghanistan, where invading forces strove to persuade civilian populations that they and not Taliban insurgents were the good guys.
Experts told the conference that since 99 per cent of people's thinking was unconscious, neurology and behavioural science provided the best techniques for military propagandists to subvert civilian beliefs. The trick was to press their emotional buttons.
Crosby, who led the campaign to bring Mayor Boris back to power in May, was due to talk about "knowing your targets and understanding how to change or reinforce the way they think or behave".
Other speakers insisted British information operations in Afghanistan were not political. Requesting anonymity, they said work persuading civilian populations was more akin to companies selling products than political agents promoting a narrow interest.
Told to do
Polls had shown British military advertising campaigns went down well in Afghanistan's unruly Helmand province. The number of people in Helmand who believed that if the Taliban returned to power they would misuse it had increased from about 40 per cent to 80 per cent in the year to January 2012. British forces had in that time spent £1/2m on informants and $1m each on billboard advertising and comic books that portrayed Afghan police as heroes. The UK campaign had analysed the Taliban's marketing message and cooked up ways to undermine it.
Yet while only 20 per cent of Helmand citizens believed what the Taliban told them, less than 30 per cent believed what was said by ISAF, the International Security Assistance Force, the occupying troops.
The truth was a moot point. Lying was said to be dishonourable, and the truth to be the best weapon in an information war. It was said the Taliban had helped the British campaign by telling too many lies.
Yet people mentioned fleetingly the use of covert, or non-attributed, campaign messages as persuasion tactics. Sometimes the truth was bent or obscured to protect soldiers lives. Black op's (pretending to be someone else) and grey op's (not saying who you are) where used, but were a taboo subject. Old US & UK psychological operations units appeared to be engaged in a struggle for information supremacy with information operations officers who had since the dawn of the information age brought advertising agencies and public relations firms into command headquarters.
General Burnley, in a promotional video for the event, said the US invasion of Iraq had been almost entirely about fighting at the beginning but information and psychological operations had by the end become more important.
"We've done some training of the Iraqi's to provide them with some tools to do information operations, so it's not always necessary for them to kick down doors and fire their weapons," said Burnley, who now heads the 352nd US Army Public Affairs division. Where the US had once preferred to wage pre-emptive war, it was now asserting soft power.
"If we could use information operations instead of bombing and shooting folks, how much better is that? By influencing them through our words and images, we could avoid war. It's a win-win situation for everyone," he said.
Speaking aside at the event, he used the example of a covert advertising campaign his unit had deployed in Bosnia. It had sought to transcend local political factions with messages that encouraged people to ask critical questions of political powers.
It sounded very much like politics. The conference portrayed persuasion tactics as the means of conversation with "target audiences". But their aim was "control of the message". They drew on behavioural science and psychology to change what people did and what attitudes they took. They used political polling agencies to measure the success of their campaigns. This was not manipulative, they said. It was influence. It was in the civilian sphere, but it was not politics, they said.
But it was do as I say (or do as I whisper) not as I do. For their own attitude was, 'don't answer back', as became apparent when they showed your correspondent the door.