White House contributes APIs, stages hackathons & runs on Drupal
Director of new media technologies at the Executive Office of the President of the United State of America Leigh Heyman was recently reported to be the man behind all the modern interactive media delivered during Barack Obama's last 'state of the union' address.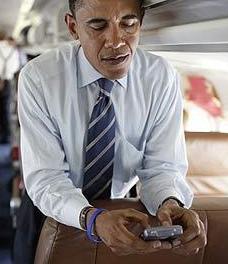 When he's not making sure President Obama's "social footprint" is impressive and impactful, Heyman can be found explaining how the White House has embraced open source technologies as part of its wider remit to digitise its activities.
Heyman recently spoke at a conference in South Carolina to explain how WhiteHouse.gov has been working with more open technologies.
Most interesting of all perhaps is that this presidential IT team is now moving towards more open and transparent government with activities including:
• White House hackathons held at the White House itself.
• An online petition platform that runs on Drupal
Opensource.com's Jason Hibbits interviewed Heyman in person and now confirms that the White House IT team is "consistently giving back" to open source projects and writing web APIs also.
Hibbits suggests that this marks a new era for the US government's relationship with open source.
In the interview linked here, Leigh Heyman gives Hibbits some of what he calls the "backstory" on how Heyman came to work for the Executive Office of the President and some fun facts about the famous Death Star Petition.
The below extract is readable in full at this link on the opensourve.com website.
QUESTION: What were some of the considerations in starting the White House GitHub account and allowing code contributions?
Leigh Heyman: Most of the concerns were not strictly related to GitHub, but around our open source presence in general. Given that open source development, especially on platforms like GitHub, Drupal.org, and others is essentially a form of social networking, a lot of the same issues need to be addressed as organizations engage with the larger community on those platforms. Because of that similarity, we were able to build off existing social networking policies to guide our engineers' interactions with the open source community.