What to expect from Apache: Big Data Budapest & ApacheCon Core Europe 2015
Last year the Computer Weekly Developer Network blog and Open Source Insider reported on what was then called the CloudStack Collaboration Conference & ApacheCon 2014.
This year we are able to call the event Apache: Big Data Europe and its sister event is ApacheCon Core Europe 2015 — with both developer-fests being staged in the crown jewel of the Danube that is Budapest.

According to The Apache Software Foundation, Apache products power over half the Internet, petabytes of data, teraflops of operations, billions of objects and enhance the lives of countless users and developers.
There are code contributions by more than 3,500 ASF committers around the world.
So what should we expect?
The event claims to be able to gather together developers, engineers, architects and data scientists that develop and use big data technologies including Hadoop, Spark, CouchDB, Falcon, Kafka, Knox, Phoenix and more.
A glance at the keynote selection looks tasty:
• Big Science and Big Data at CERN — by Dirk Duellmann, CERN
• Apache's Key Role in the Big Data Industry — by Arun Murthy, Hortonworks
But check out the actual opener entitled 'The State Of The Feather' by ASF president Ross Gardler, who himself is a senior programme manager at Microsoft.
CW blogs: The state of the feather (obviously) sounds like a real state of the nation address — without giving away the substance of your keynote, what is your higher-level message for attendees at this year's event?
Ross Gardler: This is a short session we run at every ApacheCon event. It covers growth of the foundation, financial management, infrastructure, fundraising etc. It also establishes the ASF as a vendor neutral space. We use it as an opportunity to reinforce that influence in the ASF cannot be bought.
That we keep our overheads low by focusing on the essentials of producing good software through our community over code approach (commonly known as The Apache Way). It's really a celebration of who and what we are and a reassertion of our core values.
At the highest level the message is "we continue to grow, we continue to improve, we continue to be vendor neutral, we appreciate our sponsors who make this possible, we appreciate our volunteers who make this possible". If you want the numbers, facts and figures to back this up then watch the video or review the deck.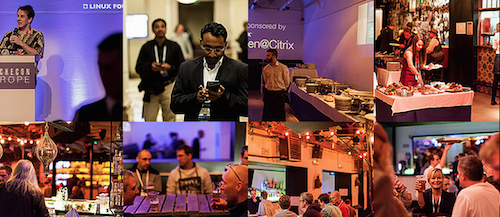 CW blogs: You've said before that titles don't really mean anything in the Apache Foundation and you were obviously talking about the need to champion a meritocracy and the recognition of great effort — is this something that everybody constantly 'just gets' do you think?
Ross Gardler: No, this is not something that everybody 'just gets'. It is not common to find a management structure as flat as that found at the ASF.
Once someone has been around an ASF project for a short while they quickly realize that it is true. A newcomer to a project who has valuable contributions has as much authority as the person who is credited with founding the project.
CW blogs: The Apache Foundation always sets out to produce software that is "of value to the public good" … that can be tough with embryonic prototype projects that are great for conceptual evolution, but never actually come to fruition isn't it?
Ross Gardler: Well I guess how you interpret "for the public good", what we mean is for the benefit of everyone who seeks to benefit from them. This allows us to focus on the community rather than the code. It is our belief that bringing people with similar goals together, and providing them with an environment designed to facilitate collaboration, will result in the production of code of value.
We don't pick winning projects, we facilitate the building of communities and everything else takes care of itself. That's not to say that all our communities succeed, sometimes the alignment is not quite right, but where goals are aligned across a sufficiently diverse group of individuals we often see success.
To maximise the chances of success we have an Incubator where we provide mentors to help guide new communities on the path to being a self-regulating Apache community producing software for the public good.
CW blogs: There is huge diversity in terms of domains, language (although Java dominates), client applications and tools. So today we know that the Apache Foundation has been around for 15 years (your pace of growth is increasing, yet your original bylaws are still mostly the same) — what shape do you think the group will look like in another 15 years?
Ross Gardler: I suspect that in 15 years the ASF will still operate (mostly) as it does today. You see the Apache Way consists of very few fixed rules, such as influence is earned through positive contribution to community health rather than through money or job title and project decisions are not influenced by vendor bias.
Other than our very limited set of rules our communities are free to self-govern. They can adapt to the needs of their community and to the needs of their environment. This is why we have so much diversity today and why we will continue to increase this diversity in the next 15 years.
NOTE: Pivotal has also taken the time to specify a special preview of what it will be doing at the event at the following link: http://blog.pivotal.io/big-data-pivotal/features/what-to-expect-from-pivotal-at-apachecon-europe-2015
As the sister event, ApacheCon: Core will bring together the open source community to learn about and collaborate on the technologies and projects driving the future of open source, web technologies and cloud computing.
CW blogs: Just to close, this year's event is in Budapest, can we expect goulash — and what should attendees be thinking about Hungary right now?
I am guessing you are asking about Europe's refugee crisis. Like other governments in Europe, Hungary has been caught off guard by the scale of the refugee crisis. There is still not a EU-wide political consensus on what the correct response should be, and attitudes will continue to change as the situation evolves. On the whole, the Hungarian people have reacted with warmth and concern for the plight of refugees and have organised donations of food, clothes and other much needed items. We are also requesting donations on the conference registration site as well as onsite that our local public relations coordinator in Budapest is helping us with. We have had a great experience with the Corinthia Hotel and the city as a conference venue in the past, hence the conference is returning to Budapest for the 2nd time. As for the goulash, yes expect some at our Attendee Reception 🙂