What if we could take the total amount of power in any cloud computing datacentre and provide a means of defining that as one total abstracted compute resource? This notion has given birth to DC/OS, a technology base built on Apache Mesos to abstract a datacentre into a single computer, pooling distributed workloads and (allegedly) simplifying both rollout and operations.

Download this free guide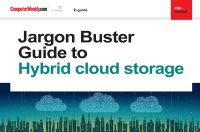 Jargon Buster: Hybrid Cloud
In this Jargon Buster guide we bring you definitions for the key concepts in hybrid cloud storage plus in-depth articles on hybrid cloud file and object storage, how to use the cloud as a storage tier and the key decision points when it comes to private cloud vs hybrid cloud.
DC/OS is described as having a "mature battle-tested architecture" and is engineered to also provide monitoring and troubleshooting tools with best practices built-in, obviously.
DC/OS abstracts a full data center into a single logical computer
Product manager at Mesosphere Keith Chambers is quoted on Linux.com putting forward and explanation and validation for exactly how he thinks we are able to call DC/OS and operating system, as such.
"We call DC/OS an operating system for a number of reasons, including how users go about installing the things they want to run on it. DC/OS abstracts a datacenter full of servers into a single logical computer (i.e., 1,000 dual-core servers become 1 computer with 2,000 cores), which means developers and operators don't need to worry about individual servers or VMs and can simply tell DC/OS about their task's or service's resource requirements," says Chambers.
DC/OS runs on top of any bare-metal, private or public clouds. It allows for the development of advanced big data, analytics and machine learning pipelines with Spark, Kafka and Cassandra inside of software application development streams.
DC/OS services ecosystem
The promise here is a route to being able to roll out the latest datacentre technologies being developed along with automation and so-called 'operational best practices' from the DC/OS partner ecosystem.
Microsoft joined the DC/OS project at its inception in April 2016, you can read the firm's full statement and explanation of the technologies presented here. This docs.mesosphere explanation is also invaluable over and above this brief.
"Easily integrate with release automation and CI/CD tools to accelerate your software release lifecycle from development to production," reads the project's website.
Infrastructure technologies for distributed systems and cluster management solutions (and also for large scale individual application frameworks) are becoming ever more prevalent across the computing landscape — ensuring that we bake in controls to provide portability of workloads across these systems will be key.