The rise of 'subliminal democratised' analytics
Only 25% of professional workers are using big data analytics says business intelligence company TIBCO.
Clearly, this is not enough.
Well, not if you sell data analysis and integration technology anyway.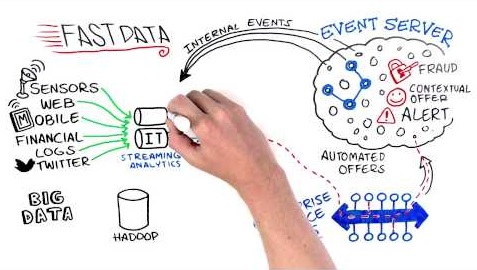 "Getting all stakeholders using analytics is both a technological and a business-cultural shift," says TIBCO CTO Matt Quinn.
The firm has unveiled a so-called 'vision' for the TIBCO Analytics platform and previewed new solutions and updates for TIBCO Spotfire and TIBCO Jaspersoft at its annual NOW technology conference.
An analytics goal
The company's goal is to make enterprise data accessible more quickly to all users, wherever they are… and in whatever application they are working.
So here's where the other 75% starts to come in.
The TIBCO Analytics platform is able to achieve this through the combined use of data visualisation capabilities in Spotfire, plus the contextual insight through embedded reporting and analytics (BI) from Jaspersoft.
What does that mean?
Well it means that users could be using analytics INSIDE of other applications.
Hence the term "embedded" reporting and analytics.
So do we mean any application at all then?
Well, potentially yes – but most likely it will be more online applications and services, but in theory it could be Microsoft Word if we follow the conceptualisation through all the way.
Subliminal analytics, for everyone
"Analytics is a term that scares people," said TIBCO's Quinn. "If you ask a line of business manager or salesperson if they use analytics they will say no, but they get a report every Monday morning and so they are as analytically driven as anyone is."
The firm's Visualize.js library exists to try and popularise the embedding of analytics inside other applications.
"The Jaspersoft guys have been brilliant at creating bindings to many web applications," asserts Quinn.
NOTE: Jaspersoft has an open source pedigree.
So this is play to give firms actionable data that is contextually relevant and delivered in real time.
Brian Gentile, senior vice president and general manager, TIBCO Analytics says that with the "combined power" of Jaspersoft and Spotfire, "TIBCO is positioned to utilise deep understanding of the data analytics market to deliver simple, fast and elegant solutions to empower end-user through data."
Inside TIBCO Jaspersoft 6 platform updates is a new dashboard designer that promises to give developers a means to build and deploy dashboards using a new version of its embeddable BI framework.
Using Visualize.js today, developers can embed interactive reports and dashboards inside their application using JavaScript.
TIBCO has also introduced TIBCO Spotfire Recommendations.
The new analytics recommendation engine is designed for business users to analyze data, but are not experts in analytics techniques.
Umm, sounds like subliminal democratised analytics again.
"Spotfire Recommendations delivers the correct visualisation the first time to speed decision-making, and eliminate the trial-and-error process associated with other suggestion-based solutions," said the company, in a press statement.
… and finally
When it comes to Spotfire and Jaspersoft Interoperability.
Over time, TIBCO hopes customers will be able to increasingly combine the power of the Jaspersoft business intelligence platform with the data visualisation capabilities of Spotfire.
Early examples of interoperability include broadening the reach of insight from Spotfire through Jaspersoft's reporting platform and enriching Jaspersoft reports with Spotfire GeoAnalytics' map-based visualizations.