The "open tablet" arrives, a first-to-market MeeGo tablet PC driven by Qt
Those of us that stayed up late last night to watch the technology newswires were treated to several tasty morsels that emanated from the Intel Developer Forum conference, which is being held in San Francisco this week.
In addition to Adobe and Intel's plans for a new developer distribution channel called the "Intel AppUp center" storefront (for monetizing Adobe AIR applications and games) – the open source community was also deservedly able to scoop up a good chunk of the limelight.
With an enviable "industry first" notch mark firmly on display, German company WeTab GmbH has gone to market with first device based on the open mobile MeeGo operating system.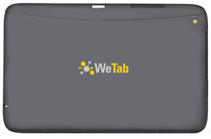 The WeTab is described as a 11,6″ slice of innovation that runs on a 1.66 GHz Intel Atom processor, which drives a Qt-based GUI and Qt WebKit-powered browser.
This machine's operating system is specifically designed for touchscreen usage and is said to be a good platform for Qt applications as they run natively on the device. Although Android apps will run too via a virtual machine, Qt's native performance on the device means that this is, arguably, a good place for developers to target as an "open source alternative" in the tablet market.
Developed in association with Intel, the device is a result of WeTab GmbH forming a joint venture with technology partners 4tiitoo AG and Neofonie GmbH. The net result of these partnerships is this personal Internet usage machine that also offers popular interfaces like USB, SD and HDMI.
According to Nokia Qt Development Frameworks, "The Qt WebKit based WeTab browser lies at the heart of the WeTab system and the project's developers said that they loved the fact that Qt allowed them to spend less time and effort on maintenance. The WeTab's desktop UI is also built using Qt and so here the developers told us that they really liked very scalable Qt Graphics View Framework, which allowed them to bring rapid development to their whole code base."
Dell also used the Intel show to showcase a slightly perplexing tablet/netbook hybrid that, despite straddling somewhat uncomfortably across multiple form-factors, did appear to go down well with the audience based on the positive Twitter feeds that were showing up.
Intel's IDF event closes today.