The next train at platform #1 is open source
The Guardian newspaper has reported on a student who has used open data to take on the National Rail Enquiries service.
The Association of Train Operating Companies has an open portal to its timetable data available here.
Users simply need to accept the associated terms and conditions in order to, "Protect the integrity of the data and ensure that it is used accurately."
The result of this open channel is that the National Rail Enquiries now no longer has monopolistic control over this information.
Chemistry student Ian Shortman used this channel to create his trains.im open source train timetable service.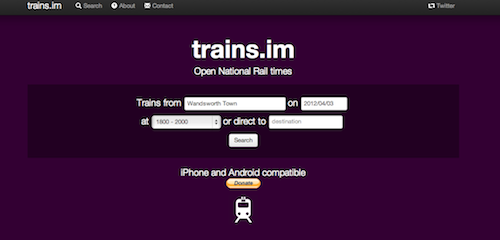 Shortman is quoted on the Guardian DataBlog as saying that there were a few things on the official site he thought he could improve upon such as additional platform information and more detailed information about the actual route to be taken.
Taking CIF (Common Intermediate Format) data and engineering in information from the OpenStreetMap project (which lists all trains between two stations in any given day), Shortman was able to build a free app compliant with desktop web browsers, iPhone and Android.
The National Rail Enquiries' iPhone app costs £5, but http://trains.im/ is free to use, although Shortman is willingly accepting donations to aid further development.