Technical change to open source is the easy part
The Document Foundation has released a white paper to help organisations migrate to LibreOffice.
According to the white paper, a migration to Free Software – and especially to LibreOffice – should follow a "carefully crafted" change management process, which needs to handle not only the technical aspects…
(which the foundation says are actually the easiest ones to cope with)
… but also the barriers met when breaking long-term working habits.
LibreOffice employs use of the ODF (Open Document Format).
ODF is a standard document format that is now claimed (by the Document Foundation) to enjoy support by the largest number of desktop software suites on the planet (including Microsoft Office).
NOTE: LibreOffice templates uses only free fonts available on every OS. These can be installed independently from any software package and thus foster interoperability between GNU/Linux, MacOS and Windows users as documents maintain their original layout on every platform.
According to a press statement, "LibreOffice offers the largest set of import filters for
proprietary document formats (including Microsoft Office, Publisher, Visio and Works, plus Corel Draw, Lotus 1-2-3 and WordPro, Quattro Pro and WordPerfect), and thus protects user investments in legacy applications, while providing a migration path to ODF."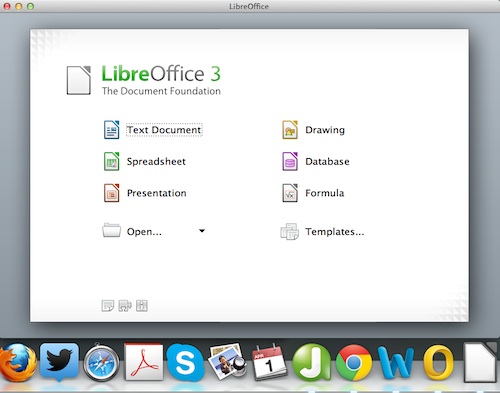 (Above) LibreOffice running on Mac Apple OS X, works great on Windows 7 and Windows 8 too (Linux compatibility also not a problem)