Spiceworks Network Monitor: Linux monitoring just got easier
Spiceworks is a company that provides a professional vertical network for IT users.
It connects what is actually millions IT users with over 3,000 technology brands — it's mission is to simplify the way we buy and manage technology products and services.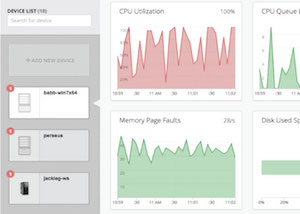 The firm has this month announced a series of new features for Network Monitor, a free application to monitor and manage server and network devices in real-time.
Love for Linux
Network Monitor now gives IT pros the ability to actively monitor Linux-based server environments, invite colleagues to view and create custom dashboards, fine-tune alert settings and understand communication issues associated with offline devices.
"We're continuing to focus on the Network Monitor features and functionality, like Linux support, IT professionals have told us are important to them and add value to their day," said Sanjay Castelino, VP of Marketing at Spiceworks.
"Our intentions are clear. We're accelerating our Network Monitor development efforts and building new apps to provide users with the solutions they need to get their jobs done."
Introduced in December 2014, Spiceworks' Network Monitor can be installed and up-and-running in 10 minutes.
The application helps IT professionals understand what's happening in their environment by providing a dashboard showing more than 25 possible sensors including network utilisation and server activity including disk and CPU usage, system memory, active services and processes and other network data.
Across the Linux spectrum
With Network Monitor, Linux administrators can keep important workloads including databases, web and proxy servers, and file servers running in top condition. The new functionality enables users to monitor system processes and services, CPU utilization, disk I/O, memory latency, and other system statistics of the most popular Linux distributions including Ubuntu, Debian, SUSE, Red Hat, CentOS and Fedora.