Red Hat: the Internet of (integrated connected usable hybrid) Things
Red Hat has used its 2015 'Summit' event in Boston to take the wraps off JBoss Fuse 6.2 and Red Hat JBoss A-MQ 6.2 – with both products introducing new capabilities for developers working on enterprise application and messaging initiatives.
The latest versions of these offerings are designed to enhance developer productivity along three 'critical' planes:
• connectivity,
• usability and,
• Internet of Things (IoT).
The ability to connect applications, data and services spread throughout complex hybrid IT environments has helped many organisations differentiate themselves in the market and gain an edge over their competitors argues Mike Piechvice, Red Hat's president for middleware.
What are these products?
JBoss Fuse — is a lightweight integration platform that is based on Apache Camel, an implementation of many of the most commonly used enterprise integration patterns (EIP).
JBoss A-MQ — is a lightweight messaging platform based on Apache ActiveMQ that supports standards such as MQTT and AMQP.
The technology proposition here is a route to make it possible for development teams to reliably connect systems and devices across the Internet and enable the integrated Internet-of-Things.
Hybrid cloud architecture creates new challenges when integrating applications and services across distributed and diverse IT infrastructure, so these products are designed to try and address these difficulties.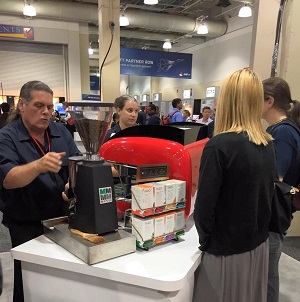 IMAGE CAPTION: Connected coffee machines, it's an Internet of Thing
According to Red Hat, the "allure" of greater agility, ease of procurement and lower cost are contributing to an explosion of new Software-as-a-Service (SaaS) assets such as business and social applications and the hybrid cloud – where workloads span both private and public clouds – is now a reality for many organisations.
"JBoss Fuse 6.2 and JBoss A-MQ 6.2 deliver the advanced connectivity capabilities needed in these complex environments, offering more than 150 out-of-the box connectors and the ability to connect SaaS applications like Salesforce, Box, DropBox, and Google Drive with on-premise applications. The latest version also provides foundational capabilities for creating RESTful APIs as well as connecting to supplier, partner, or customer APIs. The expanded connectivity and API foundation enables customers to easily create connected solutions for modern business," said the company, in a press statement.
To enable greater developer collaboration and faster time-to-market, JBoss Fuse 6.2 and JBoss A-MQ 6.2 feature enhanced tooling and usability capabilities.
The tooling here is designed to help developers create Enterprise Integration Pattern (EIP)-based services, connect applications and APIs and transform data using the included transformers and a graphical mapper available as a technical preview.