Red Hat: more reliable than Microsoft, apparently...
With Red Hat Enterprise Linux 6 now cutting its way into the enterprise-calibre open source operating systems space, there is much to talk about as the terms security and virtualisation are increasingly used to highlight its key new features.
It has been almost eight years since the first release of Red Hat Enterprise Linux and Red Hat says it has experienced no major changes to the ABI (application binary interface) or API (application programming interface) that might otherwise affect application compatibility since the Release Candidate stage was announced a few months back.
Interestingly perhaps, at this time of cheer and merriment, Red Hat has chosen to adorn the 'overview' section of its RHEL 6 web pages with news of a CIO Insight Magazine Vendor Value survey that has reported that Red Hat Enterprise Linux delivers superior uptime to Microsoft — and has the ability to install patches faster than for Microsoft Windows Server 2003 or Windows Server 2008.
In the same vendor value survey, those same senior managers also rate Red Hat as a company that is one of the most reliable software vendors.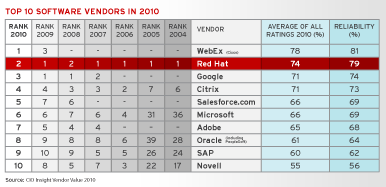 Impressive stuff, but just remember one thing: there's an old saying in PR, "When you've got no news to talk about — do a survey."