Rackspace #bigdatabreakfast, you had me at bacon and cloud
Rackspace describes itself as the 'open cloud' company no less.
Open enough then to host a cloud-enriched big data breakfast in London this month.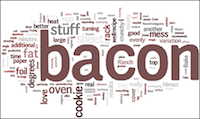 The #bigdatabreakfast (doesn't your breakfast have a hashtag?) saw representatives from Rackspace itself sit alongside suits from EMC, MongoDB, HortonWorks and DataStax.
This was a morning of occasionally great soundbites and a few over-practiced over-'media trained' howlers.
"Big data is the new currency," said one of the spokespeople. Yeah right.
More thought provoking was Berne Kaponig of EMC who said that big data is the 'avant garde element' of data management.
Rackspace itself had an admirable take on where big data is headed (it looks after a lot of it after all) and eluded to the tipping point that we now find ourselves at…
… that is to say, the firm has said before now that IT skills sets as recently as 18 months ago were not high enough for us to exploit big data to the full.
But now, in 2014, the skills gap is still there "but no longer huge" says Rackspace head of technical product strategy, Toby Owen.
Rackspace's Owen contends that that the basic skill sets are there today and that the tooling is "getting better and easier to use" as we now form a new fulcrum between BI and big data itself.
Owen also suggests that big data platforms (as a means of compute processing power) are becoming more straightforward for the end user in operational terms.
The Rackspace man in particular referred to where we are today with MongoDB i.e. it started back in 2007, grew slowly, skills developed and then now… it is one of the top 10 databases on planet Earth.
EMC commentary was stronger than some others at this event; the company stated that enterprise class data management is about to become more mainstream.
A couple more for you…
EMC mentioned that we are on the verge of bringing latency down one more step i.e. the cloud is getting more "pragmatically real" in terms of implementations today.
Rackspace also said that analytics & integration inside the vertical stack is where the opportunity is.
Bacon sandwiches, cloud and insight then – what's not to like?
Gastronomic disclosure: No HP sauce, Daddies or other 'brown condiment' was provided.