Poised for growth? Twidroyd & Twitter clients for Android
Fact number #1: Android is the fastest growing mobile operating system in the world right?
At least that's what the Wall Street Journal reported when citing Google's chief executive Eric Schmidt, who has said that more than 300,000 Android devices are activated every day.
Fact number #2: Twitter is quite popular.
So should we not be focused on Twitter clients for Android? This must be a massive area for potential growth surely?
New to my awareness this week was Twidroyd, an offering described as an industry-standard twitter client for Android — available as a free and commercial pro version that supports all twitter features as well as functionality that is customised to the capabilities of android.
Twidroyd can be downloaded from Google's Android market for all devices running android 1.5 and above.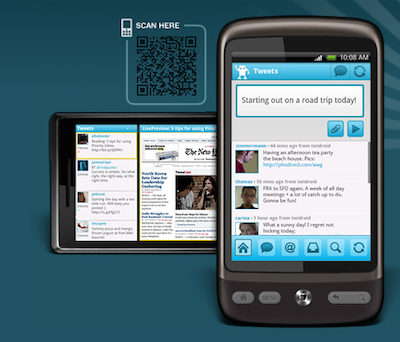 Areas of technology to be aware of here:
Other Android-compliant Twitter clients do of course exist, the very popular Tweetdeck is available on Android — although it is said to operate better on other platforms.
TweetCaster by Handmark is also in this list. This client has the nice ability to censor tweets from certain users without having to physically actually "unfollow" them.
Final point here — especially for you if you are a developer…
Twitter recently disabled Twidroyd and other UberMedia apps from accessing the service itself due to what was described as a "violation of policy."
Twidroyd was suspended along with UberTwitter and UberCurrent — all of which come from the same company, California-based UberMedia.
So if you are going to develop the next big thing, the next Twitter client for Android, or the next Twitter-killer itself even — then think about Twitter policy compliance, or you could come unstuck.