Platfora's big data play: a full stack from preparation to analytics to visualisation
The growth of open platform tools for big data analysis is immense.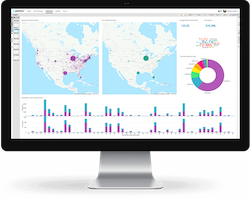 Platfora Big Data Discovery 5.0 sounds like an off-road 4×4 wheel all terrain vehicle and maybe that naming convention is deliberate.
This is a Hadoop- and Spark-native analytics platform for big data analytics.
So what? There are a bunch of big data tools out there.
Platfora's "sell" (if you will), or technology proposition here is full-stack big data discovery.
What does that mean?
This is big data all the way from data preparation (prep) to analytics to visualisation.
According to the firm's website, "Platfora brings together traditionally separate tools: data prep, in-memory acceleration, BI, analytics and visualisation — to streamline big data analytics and simplify data discovery."
So how do you update a piece of software (sorry, platform) that performs these kinds of tasks?
The new version 5.0 includes a more tightly integrated workflow and critical big data discovery technologies including Apache Spark, SQL and Excel.
#1 productivity killer for data discovery
The firm claims to be "taking aim" at the #1 productivity killer for data discovery i.e. preparation.
"Powered by Apache Spark, Platfora's data prep provides instant statistics and sample data to guide users towards customised data-driven decisions," said the firm, in a press statement.
Being able to make more intelligent, iterative investigations into big data delivers critical clues to analysts, saving them time and eliminating the frustration associated with traditional analyses dependent on guesswork.
"Data teams spend the majority of their time preparing data for analysis, before they are even able to ask the question they set out to answer. The iterative nature of big data analysis compounds this problem. Today's businesses deserve a modern platform that is designed with iteration as the norm," said Peter Schlampp, VP of products at Platfora.
"Platfora 5.0 was built to empower average users to become 'citizen data scientists' by making this process accessible to the masses. We are thrilled to be opening up our platform to increase user accessibility and look forward to expanding with additional functionality in the near future," added Schlampp.