Pentaho pushes business intelligence outward to business users
Pentaho is aiming for a bigger slice of the global Business Intelligence (BI) pie with the release of its new "user-driven" Pentaho BI 4 Enterprise Edition.
There's a lot of BI about these days, so how do we cut through the BI BS and identify new products for their true worth?
Open source at its heart, Pentaho says that this release provides interactive reporting, rich data discovery capabilities and a completely redesigned user interface.
So, nothing new there then so far right?
Pentaho says that it has delivered "dramatic progress" in the ability for business users to access, report and analyse data from more sources, more easily.
No need to get dramatic about it though please.
Chief among the products is a new web-based report designer, which provides report building for non-technical business users to serve their own reporting requirements without relying on IT.
"This builds upon Pentaho's strong operational reporting capabilities and complements the company's data analysis, data integration and data mining capabilities, all with the benefit of low-cost, subscription-based pricing," said the company, in a press statement.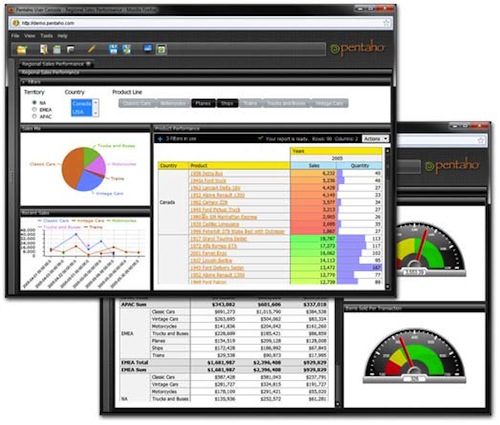 Pentaho BI 4 includes a new visual interface designed to make BI more appealing and consumable by all users from developers, to power users, to non-technical business users. The new visual interface is also re-designed for ease of customisation, so that direct customers and OEM partners can easily re-skin the application to conform to their own standards or existing applications.
"With new tools like interactive reporting, richer interactive visualisations and its new user interface, Pentaho BI 4 is making user-driven, self-service BI a reality. It enables business users to access, report and analyse data from more sources more easily than ever before with the continuing benefit of the most affordable subscription-based pricing," said Richard Daley, CEO, Pentaho Corporation
So is this BI BS? I suggest that it's not.
I recently met with Pentaho chief technology evangelist, Ian Fyfe. This guy is ex-Jaspersoft, ex-Business Objects, ex-PeopleSoft so he probably knows a thing or two about BI. If his company punts out a new version and says that it's genuinely new, then to a sensibly sceptical degree, I have some trust in this suggestion.