Pentaho 5.2 cooks up data analysis to blend, refine & 'visually taste'
Pentaho has released version 5.2 of its core Business Analytics product this week at the firm's inaugural PentahoWorld 2014 event.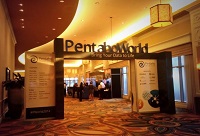 The company's open source Business Intelligence (BI) products span a technical remit that encompasses data integration, online analytical processing (OLAP) services, reporting, dashboarding, data mining and 'extract, transform, load' (ETL) functionalities.
Pentaho is using the term 'Streamlined Data Refinery' to describe its software's ability to bring the power of data driven analytics to the business.
Hadoop serves as a central processing hub here where analytics ready data sets can be blended, refined, automatically-modeled and then automatically published directly to analytic data bases (like HP Vertica) for interactive analytics using Pentaho Analyzer.
Visually taste through visualisations
The end result here for the end-user (says Pentaho) is a set of data discovery, reports, dashboards and visualisations that are immediately available.
Pentaho 5.2 extends the adaptive big data layer with advanced capabilities for Kerberos security support for major Hadoop distributions, including Cloudera, Hortonworks and MapR. This ensures that only those users with proper credentials can access Hadoop cluster resources in their data orchestration.
This 5.2 version also includes additional features that simplify the user experience for both embedded and direct customers.
According to Pentaho, users will get 15X faster results compared to hand coding,
Drag-and-faster-drop
A drag and drop interface for MapReduce allows data to be moved and processed between Hadoop and ANY data source or system.
Tony Cosentino, VP & research director at Ventana Research has said that Pentaho has been helping to solve the difficult problems associated with being able to realise the full potential of big data analytics in the enterprise.
"The challenge lies in striking an optimal balance between delivering speed, power and usability to the business and complying with IT's needs for data governance, interoperability and flexibility. Pentaho's approach to governed data delivery and its roadmap for a new big data orchestration platform is central to this and is good news for business consumers and IT departments alike," added Cosentino.