Orchard's free, open source content management system
With a heritage and team steeped in Microsoft history, Orchard is a free, open source, community-focused project aimed at the ASP.NET platform.
Developed under the auspices of the Outercurve Foundation, the version 1.1 release of Orchard was announced earlier this month at the Microsoft Mix '11 conference in Las Vegas.
Looking at the product itself, Orchard 1.1 is a .NET-based CMS (content management system) application designed to allow users to create content-driven websites.
Orchard's owners specify that it includes an 'extensibility framework' — a function designed to allow developers to provide additional functionality through module extensions and themes.
Orchard 1.1 includes a number of new features and enhancements:
• a fresh design of the administration panel
• a rapid way to set up a new Orchard site using "recipes"
• additional extensibility hooks for developers
• flexible "shape tracing" tools for designers to inspect and customise the rendering of an Orchard site.
"Our goals with Orchard 1.1 were to address community feedback, improve design and usability of administration, and simplify setup and reduce the time it takes to configure a new site. We streamlined the workflow to install modules and themes, manage widgets, and create lists of content. We also made improvements targeted at deployment and hosting," said Bradley Millington, project lead and manager of the ASP.NET Open Source Gallery.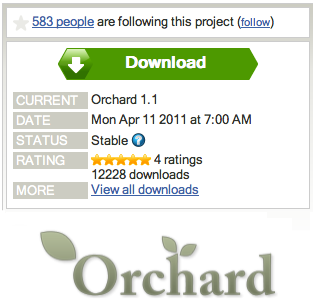 Orchard 1.1 is available from the Orchard Project site at http://orchardproject.net It is licensed under a New BSD license, which is approved by the OSI.