Open source intelligence (OSINT) iBrabo tracks Syrian tweet location of ISIS suspect
Reports in the Independent newspaper and elsewhere suggest that the open source intelligence research group iBrabo has helped with information capture technology in the quest to pin down a suspected ISIS militant.
A New Zealand born individual, Mark John Taylor (who uses the names Mohammad Daniel or Abu Abdul Rahman) is said to have now suspended his Twitter account after inadvertently tweeting his location while in Syria.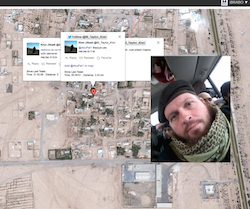 According to Twitter's location service FAQ:
Enabling location services allows you to selectively add location information to your Tweets. This feature is off by default and you will need to opt in to use it.
Once you've enabled location services, you will be able to attach a location (such as a city or neighbourhood) of your choice to your Tweet. When you are using Twitter for Android or Twitter for iOS your Tweet will also include your precise location (latitude and longitude).
According to iBrabo, "It's a rookie social media mistake and one that intelligence and law enforcement agencies pray for when tracking criminals. This week one of New Zealand's well known jihadists, Mark Taylor (Twitter aka: Kiwi Jihadi or @M_Taylor_Kiwi), removed 45 tweets after he discovered that he was broadcasting his twitter location to every intelligence agency (and others) keeping tabs on him."
NOTE: Open-source intelligence (OSINT) is intelligence collected from publicly available sources.
iBrabo's Jeff R. Weyers (a researcher/consultant at iBRABO: Specializing in terrorist use of social media, violent extremism prevention and OSINT) continues, "Unfortunately for him we captured all of them prior to him removing the tweets and will discuss the value of the intelligence they contained. Taylor isn't the first jihadist to broadcast his whereabouts via social media and in fact looking at the battlefield in Syria we see fighters from Canada, France and other western countries making the same mistake."