Open source + big data = Apache: Big Data
The Linux Foundation in conjunction The Apache Software Foundation has announced Apache: Big Data, an inaugural conference to take place on September 28-30 in Budapest, Hungary.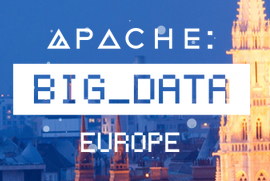 The event will take the place of ApacheCon Europe.
It will be followed immediately by another new event, ApacheCon: Core, which will bring together developers and code committers to host community-driven sessions focused on the range of non-Big Data ASF projects.
Sources at the Foundation(s) plural insist that "virtually all" of the leading big data projects including Bigtop, Crunch, Falcon, Flink, Hadoop, Kafka, Parquet, Phoenix, Samza, Spark, Storm, Tajo and others are developed under the auspices of The Apache Software Foundation (ASF).
Collaboration is (of course) essential to success in open source, which means developers need a neutral venue in which to come together to advance their work.
This is why sessions at the co-located ApacheCon: Core will be project-driven, with developers and code committers able to organise sessions around their specific projects, enabling a larger variety of projects to be represented than any prior Apache event.
Both events are currently accepting speaking proposals at the time of writing.