Open Data: 'civic engagement' is on the cusp
Mark Headd is the key guy when it comes to developer evangelism at Accela — the firm provides cloud-based 'civic engagement' solutions for government.
Headd spoke this week to opensource.com via Jason Hibbets, senior community evangelist in corporate marketing at Red Hat.
What is civic engagement?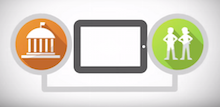 The New York Times defines this new term as follows:
"Civic engagement means working to make a difference in the civic life of our communities and developing the combination of knowledge, skills, values and motivation to make that difference. It means promoting the quality of life in a community, through both political and non-political processes."
On the cusp of change
Headd is leading a panel discussion at the All Things Open conference about open data and wants to explore how open data is changing government, both institutionally and operationally.
His most pertinent comment is shown below:
"I think open data has progressed to a point where we are on the cusp of seeing dramatic changes in the way governments operate by leveraging data in different ways. For those of us–inside and outside of government–that care about it, we need to ensure that the promise of open data is fully realised. Now that governments are publishing their data and starting to make better use of it themselves, there needs to be serious conversations about how this affects the structure and operation of government."
He concludes by arguing that governments are still organised in ways that reflect their siloed, opaque past, not their agile, transparent future.
You can read the full interview here.
Accela's Civic Platform, which includes open APIs and mobile apps, enables and improves core processes for city, county, state and federal governments.