Oh no, not another open source alliance
Gosh, aren't there a lot of alliances and partnerships out there right now? The IT industry must be running in second place only to the airlines in terms of the amount of partnering and buddying up that's going on at the moment.
These days you don't even need to ask if a company partners with IBM, Microsoft or Oracle — virtually everybody does, so don't even bother to check.
So top of last week's "ho-hum, oh right, there's another one" list is the Open Virtualisation Alliance. So who's in and who's out?
Well, this "consortium" of consorts is made up of BMC Software, Eucalyptus Systems, HP, IBM, Intel, Red Hat and SUSE. It's rasion d'etre is to foster the adoption of open virtualisation technologies including Kernel-based Virtual Machine (KVM).
So will this consortium of chirpy industry chaps merely exist to push out a few self-serving papers on best practice and knock out a few technical advice case studies, or will it provide some meat in its industry alliance sandwich?
"The Open Virtualization Alliance will complement the existing open source communities managing the development of the KVM hypervisor and associated management capabilities, which are rapidly driving technology innovations for customers virtualizing both Linux and Windows applications," says the group.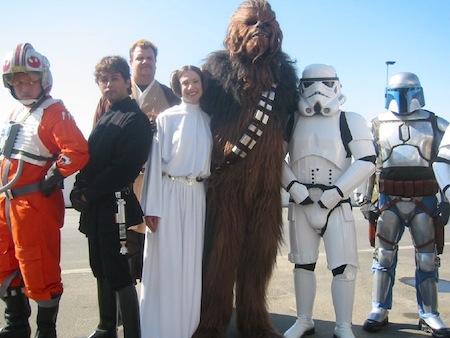 No no, that's the 'Rebel Alliance', wrong group
The alliance members have already colluded on a press statement to remind us that KVM virtualisation provides performance, scalability and security for applications in environments from single system deployments to large-scale cloud computing.
"As a core component in the Linux kernel, KVM leverages hardware virtualization support built into Intel and AMD processors, providing a robust, efficient environment for hosting Linux and Windows virtual machines. KVM naturally leverages the rapid innovation of the Linux kernel (to virtualize both Linux and Windows guests), automatically benefiting from scheduler, memory management, power management, device driver and other features being produced by the thousands of developers in the Linux community," says the group's launch press statement.
Snide cheap journalistic quips aside, the formation of this alliance is broadly good news for the industry and those companies working towards implementing open virtualisation technologies.
The difficulty at launch stage with these initiatives are clouded by the all the parties involved as they line up dutifully for their "oh and we're delighted" quote in the launch press release. But the truth will out in the substance therein – visit the website to see how they're all getting along at getting along.