OSCON 2011: Open Source has moved from "disruption to default"
Portland Oregon is (apparently) famous for rain, rose gardens and (now) OSCON, the open source conference now in its 13th year.
Staged under the banner of O'Reilly technical publishing, this event's ex-post "content" is now all online, so rather than preview the event, I am going to point to a couple of links now fully live.
Conference keynotes are now available here — and there are some 30 or so videos to watch if really want to dig deep. I want to point to Jono Bacon who is Ubuntu community manager at Canonical.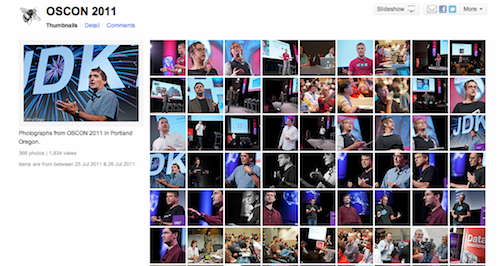 Bacon's "The Future Of Community" presentation takes us right back to tribal caveman times when (hunting) skills were shared through "group collaboration" — Bacon also questions whether "silos" of knowledge could develop in these scenarios if group knowledge was not evenly shared among the cavemen.
One imagines that this problem was referred to as "ugh!" rather than "group collaboration and knowledge silos" at the time, but you get the point.
Let's pick one news event from OSCON. HP signed up for OpenStack.
"HP recognises that open and interoperable cloud infrastructure and services are critical in delivering the next generation of cloud-based services to developers, businesses and consumers. It is our belief that close collaboration with developer communities combined with HP's global portfolio are cornerstones to delivering the right, seamless and secure experiences for our customers," said Emil Sayegh, VP of cloud services at HP.
The OSCON site itself is packed with coverage from various IT publications and vendor announcements. Look for the CONNECT button on any page and select "News & Coverage". There's also a Flickr page here if all you want to do is look at pictures.