NHS cancer diagnostic pathology thriving in open source
Many cancer laboratories in the UK are using antiquated reporting software.
Given the massive universe of both biological and human physiological data that needs to be processed as part of cancer research, this is a surely unquestionable issue that needs to be addressed.
Free Diagnostic Pathology Software Project
The Free Diagnostic Pathology (FreeDP) Software Project came about as part of a Department of Health initiative to improve the NHS through the use of technology.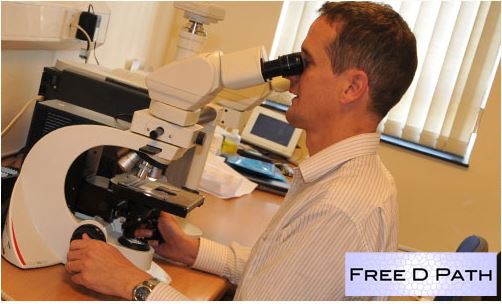 The FreeDP project involved 322 trials of online software as it sought to address the need to provide pathologists with a way to efficiently report complex cases.
When implementing "lean" principles in the laboratory it became evident to the FreeDP team that the current IT systems needed a more visual and streamlined approach with "customisable reporting templates and proformas" to capture the complete data sets for each case.
To overcome these difficulties The Free Diagnostic Pathology Software Project developed its own web based reporting software.
The team noted that when using FileMaker it was possible to update the software without shutting it down and interrupting work — this allowed the medical staff to improve the software in many small steps; checking and adjusting each step as it was implemented.
NOTE: FileMaker (or its latest version, FileMaker Pro) is a relational database application known for being easy to use and for its ability to serve Web pages dynamically without requiring the use of additional third-party applications.
Cross platform compatibility
The software used here was built in FileMaker Pro and is designed for use with Instant Web Publishing from FileMaker Server Advanced. As FileMaker Pro is a cross-platform relational database application it is compatible with both Windows and Mac OS environments — and also Apple mobile devices using FileMaker Go.
The proformas and templates allowed for easy data capture to automate some of the process, reducing the time required by pathologists to input data following the analysis of a specimen. The proformas in the software also based on those advocated by the Royal College of Pathologists and the International Collaboration on Cancer Reporting.
The software can be used on any computer, or mobile device, with a web browser and access to the server, and there can hundreds of simultaneous users.
The software has been trialed by staff across multiple sites to report thousands of cases, including many complex tumour cases requiring key data element capture. This software, along with other process improvements, has supported an increase in the percentage of specimens reported by the laboratory in seven days from 40% up to 85%.
According to an official statement from the development team, "Given the barriers to developing and implementing new technology in the NHS, The Free Diagnostic Pathology Software Project has made its software open source. It wants the software to be improved and so has published it under a GNU license."
Downloads from Zambia and Argentina
"This means there will be constant development and improvements as users must share changes with the whole community. Initially the Project was intended to be shared with others in the NHS but the nature of the Internet has meant there has been downloads as far afield as Zambia and Argentina which will only advance the project further. The hope is that doctors around the world can adapt the streamlined processes to deliver comparable results."