NASA boldly goes deeper into open source with code.NASA
NASA (the National Aeronautics and Space Administration) has launched a new web site to "expand and unify" its open source efforts.
The http://code.nasa.gov/ site/portal is intended to (bring to) surface existing projects and processes that NASA feels would benefit from exposure to open community contribution efforts.
This move of course comes on the back of NASA's work with Rackspace to launch the OpenStack open source cloud platform back in 2010, an initiative that (at the time of writing) now has 144 member companies.
code.NASA is hoped to provide a forum for discussing projects and processes and guide internal and external groups in open development, release and contribution.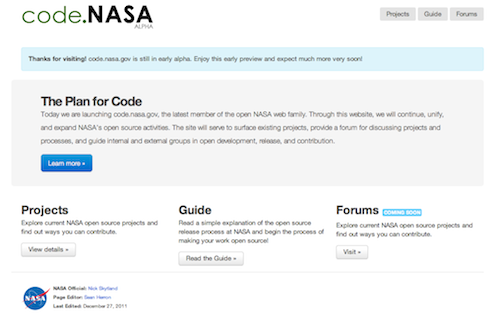 NASA is of course talking about code and the processes driving software application development, but the agency has been generic enough to include "processes" of all kinds it seems.
Elucidating the process…
William Eshagh of NASA's Ames Research Centre has said that first steps (phase one) will involve the creation of a directory of existing projects — which will be followed by efforts to "lower the barriers" to building open technology in partnership with the public.
NASA openly states that, "We believe that tomorrow's space and science systems will be built in the open."
Phase two of the new portal will reportedly concentrate on the creation of a "robust forum" for ongoing discussion of open source concepts, policies and projects at the agency.
"In our third phase, we will turn to the tools and mechanisms development projects generally need to be successful, such as distributed version control, issue tracking, continuous integration, documentation, communication and planning/management. During this phase, we will create and host a tool, service, and process chain to further lower the burden to going open," said Eshagh.
"Ultimately, our goal is to create a highly visible community hub that will imbue open concepts into the formulation stages of new hardware and software projects, and help existing projects transition to open modes of development and operation," he added.
Want to mail NASA to let the team know about your open source ideas? Now you can at [email protected]