Microsoft's WebMatrix free open source web design tool
In Beta since July 2010, Microsoft has today launched its WebMatrix free to use open source web design tool. Targeted at novice designers and consumers, the tool comes with around 120 pre-coded templates at launch and these will include web apps such as PayPal, Facebook etc.
The company says that once your site has been created, users are given a choice of hosting options by a number of providers.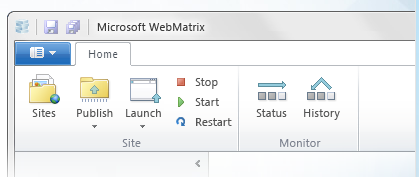 On the technical side, WebMatrix uses the IIS Express development web server, Microsoft's own ASP.NET web application framework and SQL Server Compact (an embedded database).
Microsoft says that WebMatrix is suitable for "all skill levels" and has provided a set of video tutorials, various 'how-to' tips and other resources for helping new web developers get started.
For the professional developer, the company says that it's another option for quick and easy data-driven website development. Professional developers can also contribute to a directory of code published through NuGet, a free open source package management system, so others can benefit from their expertise.
"WebMatrix is available today in nine languages and includes a set of tools to create new websites, using code provided through a variety of available templates or using existing free open source web applications, such as WordPress, Joomla!, DotNetNuke and Umbraco," says Microsoft.