Microsoft welcomes Android & iOS apps to Windows 10
Looking at the official feeds from Microsoft Corp. during its Build 2015 conference and exhibition, headline items include news of a set of software development kits (SDKs) designed to help developers bring the code that they write for web, .NET, Win32, Android and iOS…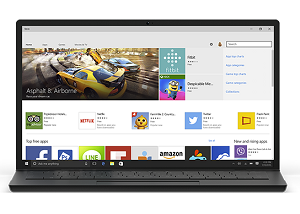 … all to Windows 10.
Initially then, let us focus on Android.
So once again, to be clear, that will mean Android apps on the Windows Store.
To be clearer, this is not a question of Google Play apps simply working on Windows with full compatibility.
To be absolutely crystal clear, Microsoft is in effect (and in actuality) encouraging software developers to reuse, repurpose and repackage Java and C++ code from previously created (but new ones are even more important – keep reading down) Android applications to get them onto the Windows Store.
… and, to therefore, effectively "do more" with these same applications as they get an additional lease of life in Windows.
How will this happen?
Windows phones will include an 'Android subsystem' that will support Android APIs to make this possible – the development for this technology is known as Project Astoria at the moment.
Windows, the 'universal' factor
Project Astoria (also referred to as "Project A") is a Universal Windows Platform 'bridge toolkit' that enables developers to build Windows apps for phones by reusing their Android code.
To be clear, Android developers will be able to build apps using Android code to target Windows 10 phones without having to leave their Android IDE.
To be even clearer, Project Astoria will include a Windows phone emulator and interop capabilities (focused on areas like UI and services) that will help the app to run and look "better" (says Microsoft) on the Windows platform.
According to Microsoft, "With "Project Astoria" developers are able to: build Windows apps for phones with few code changes, use a Microsoft interoperability library to integrate Microsoft services into their app with very little effort, test and debug their app from their preferred IDE and publish their app (and get paid) through the Windows Store."
Shaping new Windows-Android apps
Microsoft is inviting developers who want to get involved to submit Android APKs for testing and thereby help "shape the effort".
… and that shape word is actually important i.e. this is all about Microsoft wanting Android developers to develop new applications that take full advantage of Windows 10 for its overall user interface experience including its approach to touch and navigation.
This is all great news then, right?
Well yes, assuming Google doesn't do anything to try and jostle in and makes thing difficult for this openness to flourish. It couldn't, it shouldn't – would it?