Microsoft loves Linux a bit more, opens SQL Server to Linux
Microsoft has announced SQL Server 2016 with general availability later this year.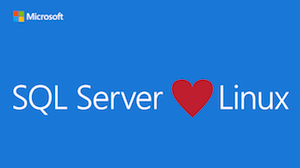 Significantly, Microsoft has also announced plans to bring SQL Server to Linux with availability by mid-2017.
SQL Server for dummies
SQL Server is a relational database management system (RDBMS), it runs on T-SQL (Transact -SQL) a set of programming extensions from the once glorious Sybase (and extensions from Microsoft too) that add features to standard SQL including:
* transaction control,
* exception and error handling,
* row processing and,
* declared variables.
The intention from Microsoft is that SQL Server (with Linux love) will be able to deliver a consistent data platform across Windows Server and Linux as well as on-premises and cloud.
Gillen thinks it rocks
"This is an enormously important decision for Microsoft," said Al Gillen, group vice president, enterprise infrastructure, at IDC.
"By taking this key product to Linux, Microsoft is proving its commitment to being a cross platform solution provider. This gives customers choice and reduces the concerns for lock-in. We would expect this will also accelerate the overall adoption of SQL Server."
The scope of Microsoft's data business
As part of the "hey, our whole data business is a thing" work from Microsoft we will also see new security encryption capabilities inside SQL Server in all its form.
Data will be encrypted at rest, in motion and in-memory to deliver maximum security protection.
Other updates include business Intelligence for every employee on every device – including new mobile BI support for iOS, Android and Windows Phone devices, plus advanced analytics using R support to do real-time predictive analytics on both operational and analytic data.
Red Hat happy face
The industry has lined up (Red Hat first please, no pushing now) to applaud Microsoft's moves towards further open source enrichment here.
Paul Cormier, president, products & technologies at Red Hat was happy for his PR department to craft a quote with his name on it that he believes his customers will welcome this news and that they would likely be happy to see Microsoft further increasing its investment in Linux
"SQL Server's proven enterprise experience and capabilities offer a valuable asset to enterprise Linux customers around the world," said Cormier.
"As we build upon our deep hybrid cloud partnership, spanning not only Linux, but also middleware and PaaS, we're excited to now extend that collaboration to SQL Server on Red Hat Enterprise Linux, bringing enterprise customers increased database choice."
… and now relax and Stretch
SQL Server for Linux will feature a Stretch Database service which is designed to allow administrators to send data from on-premises servers onward onto the Azure cloud for storage — but, crucially, it is able to do this while also keeping it accessible for applications that query a particular database table.
The industry has been a) somewhat surprised by the direct openness of this move or b) kind of not that surprised because Linux purists might be more likely to drop in usage of SQL server rather than any other element of the total Redmond stack.
Microsoft's Scott Guthrie broke the news on his blog here.