Microsoft contributes Mayhem interconnectivity system to open source
Microsoft Research has this week donated its Mayhem simple scripting system for non-programmers to The Outercurve Foundation — a non-profit group focused on software IP management and project development governance.
Outercurve champions collaborative software development inside open source communities. Microsoft Mayhem is designed to allows users to "interconnect services and devices within and beyond the Windows ecosystem" as its central function.
Almost any device or service in the Windows ecosystem can be used to add events and reactions to Mayhem.
Part of the Outercurve Foundation's new 'Innovators Gallery' group, Mayhem sits as the 'anchor project' among other open source technologies.
Project Leader, Paul Dietz, sees Mayhem as part of the next step in the evolution of personal computing. "The PC will move from being a tool that people use, to a servant that people command to take action on their behalf."
Mayhem takes instructions of the form "when this event happens, do this reaction" and an event could be for example:
• pressing a key on an Xbox controller,
• saying a verbal command,
• or using an interface on your mobile phone.
Mayhem will also react to network-based events that use data from the Internet such as for example:
• stock prices or exchange rates,
• weather,
• social networking updates
To foster the creation of additional Add-Ons that extend the power of Mayhem, the Outercurve Foundation is hosting the "Make Your Own Mayhem" Contest 2012.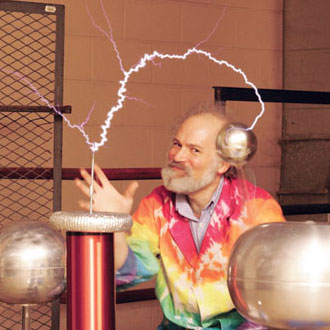 Make Your Own Mayhem judge IBM fellow/mad scientist, Mr John Cohn.