Microsoft & Google developer connection on TypeScript Angular 2
With Microsoft's Build 2015 conference for software application developers almost within touching distance now, the firm is clearly not saving all its programmer enrichment for the main show itself.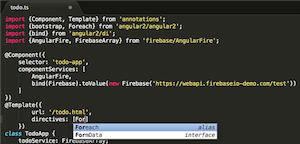 During the opening keynote at ng-conf in Salt Lake City, members of the Microsoft TypeScript team joined Angular's Brad Green to announce that the Angular 2 framework will be written in Microsoft's JavaScript superset, TypeScript.
What it means
A free and open source language developed by Microsoft, TypeScript is a typed 'superset' of JavaScript with classes, modules and interfaces — it compiles to plain JavaScript on any browser on any host and on any operating system.
Developer by Google, Angular (or AngularJS to some) is an open source web application framework and JavaScript library for building websites and web applications.
According to Google, HTML is great for declaring static documents, but it falters when we try to use it for declaring dynamic views in web-applications. "AngularJS lets you extend HTML vocabulary for your application. The resulting environment is extraordinarily expressive, readable, and quick to develop."
TypeScript evolution
Microsoft insists that working closely with a rich library like Angular has helped TypeScript to evolve additional language features that simplify end-to-end application development, including annotations, a way to add metadata to class declarations for use by dependency injection or compilation directives.
Previous versions of Angular were written in JavaScript, but TypeScript will now offer a new set of tools in Angular 2, supporting a range of platforms, allowing developers to build cleaner code when working with Angular 2's dynamic libraries.
Developers can still choose to write Angular 2 applications in traditional JavaScript, but they will also enjoy the new set of TypeScript new capabilities available to them, which will adopt the key features proposed in Google's AtScript language.
As part of a cooperative effort to improve the developer experience, the Angular and TypeScript teams are working effectively to both converge AtScript with TypeScript and to improve Angular 2 and TypeScript 1.5. They are also working jointly to propose ECMAScript 7 extensions for optional static types and decorators.
Soma speaks…
S. Somasegar is the corporate vice president of the Developer Division at Microsoft. He has explained that three years ago now his team introduced TypeScript to offer compile-time type checking and richer tooling integration.
According to Somasegar, "In addition to the work on the language, we've continued to improve Visual Studio's powerful environment for building TypeScript apps with type-supplemented IntelliSense, go to definition, refactor/rename, project templates to get you started, and integrated build support. If you have Visual Studio 2013 Update 2 or beyond, you have TypeScript already. It's great to see the continued growth in the TypeScript ecosystem, and I'm particularly excited to be partnering with Google's Angular team to align our work on TypeScript and Angular 2."