MSFT Office, OpenOffice.org, LibreOffice.org & now Calligra-Suite.org
In the wake of what has been claimed to be leaked screenshots of Microsoft Office 2014 and the continued growth of both OpenOffice and its LibreOffice fork, there is still more choice out there in the "productivity suite" applications market if you go looking for it.
Originally part of KDE graphical desktop environment for Unix workstations and now other operating systems, the Calligra Project has produced a full suite of Office-style productivity apps that are Open Document Format (ODF) and Microsoft Office compatible.
A test version was released in January, but a note on the Calligra blog now highlights that the full release is available for download here.
Calligra Mobile for the Nokia N900 smartphone is also available and reports suggest that there is also a document viewer for tablets.
Office applications include:
Calligra Words Word processor
Calligra Sheets Spreadsheet
Calligra Stage Presentation
Calligra Flow Diagrams and Flowcharts
Kexi Visual Database Creator
Braindump Note Taking
Graphics applications include:
Krita Drawing Application
Karbon Vector Graphics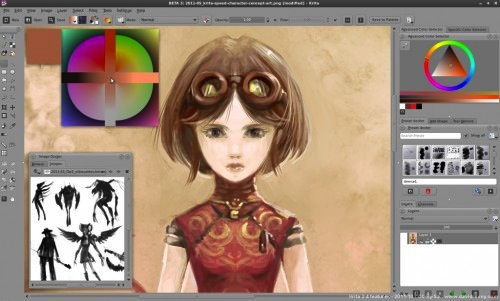 Management applications include:
Calligra Plan Project Management
So who cares and how is Calligra different?
According to Calligra, "The applications in the Calligra Suite shares some common UI concepts that gives it a modern look better suited for the wide screens of today. One of them is that most formatting is done using dockers which are placed at the side of the windows instead of on the top. This makes more space available for the actual document contents and avoids opening dialogs on top of it."