Linux Box uses defunct Enron email archive for testing
Michigan-based 'vendor-independent' open source specialist The Linux Box has launched a demo of its email archiving system, Enkive CE (Community Edition). Boasting over 100 downloads since it was made available for download in November 2010; the company plans to announce Enkive EE (Enterprise Edition) in the near future.
The Linux Box states that its community edition demo product has been tested with half a million emails from the now-defunct Enron Corporation. The Enron email dataset was made public and then posted to the Internet by the Federal Energy Regulatory Commission — the entirety of which comes with the demo itself.
Although you are only testing an email archiving system if you do chose the demo — the indemnifying statement makes interesting reading:
"Please note that some of these emails may contain potentially offensive material and that by clicking on the demo you understand and agree to release The Linux Box Corporation, and each of their respective officers, employees, and agents from any and all claims, demands and damages (actual and consequential) of every kind."

Enkive Community Edition (Enkive CE) itself is described as a comprehensive open source solution to help address the problem of e-mail retention for business intelligence and legal and regulatory compliance.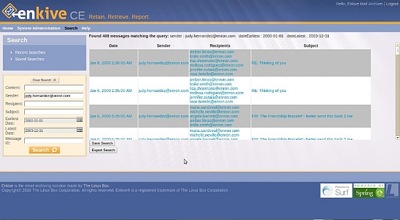 "Enkive empowers organizations to easily store email while retaining control over their email system, IT infrastructure, information and processes," says the company.
END NOTE: It is not with a small dose of scepticism that I post this story. Does the Linux Box simply roll out open source iterations of what it then moves to EE enterprise edition level and then start charging? Well the company does state that:
• Customers get the limelight and kudos for code they indirectly contribute.
• Customers increase control over IT services, while reducing IT costs.
• Customers gain competitive advantage.