Less bounce with Mongo for Youwin gamblers
The online betting industry is adopting enterprise level open source technologies where there is still come reticence among perhaps more traditional firms.
Youwin has been using open-source big-data technology MongoDB to improve its business outcomes — the firm has:
• Halved its bounce rate and increased turnover by 10 per cent
• Cut its project costs
• Boosted active player numbers by 22 per cent
NOTE: The term "bounce rate" is part of web analytics terminology and refers to the number of website visitors who will leave a site after only visiting one page. The inference here is that the landing page a user sees first is therefore not relevant to them.
MongoDB is a non-relational open source document-oriented database developed and supported by 10gen.
The concept of "in-game betting" requires a website to constantly update odds within seconds of an action, leaving little room for errors or downtime.
To meet this challenge, Youwin needed to build a content management system (CMS) platform to unify its dozens of different gambling products and payment solutions. Youwin selected MongoDB following a trial to see how easily it aggregated data across its platforms versus a traditional relational database.
"Our users have very high standards and so our business model is based on satisfying their needs. We cannot afford to offend them with glitches or slow site-speeds and MongoDB helps us keep the site running smoothly so players can make decisions quickly. We know the better the site performs, the longer users stay and the more money they spend," explained Arek Goralski, head of development at Youwin.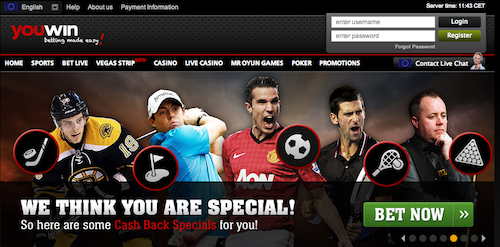 The company's VP of EMEA region Joe Morrissey puts more colour on the use of these open source technologies and says that this is a good example of how NoSQL databases are playing a vital role in helping companies turn the vast amounts of data (that users are now generating) into useful intelligence that helps improve performance and grow revenues.