Leaving on an (open source) jet plane
We've seen open source hardware architecture grow significantly within the last eighteen months as well as open technology development even touching areas like car design.
No surprise then that the sky is the limit (ouch! sorry for that!) and that open source should also extend to planes.
MakerPlane says that its mission is to create innovative and game-changing aircraft, avionics and related systems and the transformational manufacturing processes to build them.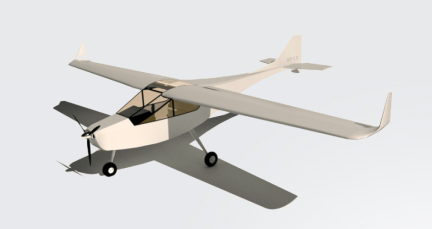 As a result of this aim, the firm says its aircraft can be built with "consistent, repeatable and highly accurate" processes, which create safer flying at lower cost.
The core blueprints and design for the MakerPlane 1.0 prototype describe a "light two-seater sports plane" with a maximum speed of around 138 mph. The aircraft will support a maximum take-off weight of 1,320 lbs, which is just over half a metric ton, but a "ballistic parachute" is also included.
Plans at this stage show MakerPlane 1.0 being constructed using computer-controlled (CNC) routers with 3D printers to help build a selection of some of the parts.
MakerPlane's founder John Nicol has explained that there are massive time savings with the techniques his firm is pioneering. He says that a "wing rib" can be created and cut out on a CNC machine in no more than a couple of minutes, instead of the two to three hours it takes today using traditional methods.
The firm's build process also features step-by-step build and assembly instructions, videos and animations with a minimal use of text where possible.
According to a press statement, "The design has a very large and comfortable cabin that can accommodate tall pilots up to 6'8″. The tricycle gear configuration along with the high-wing, give MakerPlane 1.0 classic aircraft lines perfect for the weekend flyer and for training. MakerPlane 1.0 will be a modular construct that will allow many different pre-approved options such as landing gear, wings, power plant, interior and other configurations. These designs and plans will also reside in the MakerPlane open source repository."
The estimation is that somewhere over 60 percent of "kitplanes" end up as unfinished projects, Nicol's MakerPlane hopes to change that.