Is enterprise Android a BYOD hell?
Google's release of Android Jelly Bean 4.2 has come at a time when somewhere around 50 manufacturers now support the open source mobile-focused operating system.
Looking across the market there are now thought to be over 500 types of Android device and this of course now includes both tablets and smartphones.
Across the US and the UK with 'rest of the world' taken into consideration too, the list of worldwide total Android implementations is becoming hard to track.
With the growing Bring Your Own Device (BYOD) trend showing no signs of slowing, the question is… are we going to witness a device management problem at the enterprise level?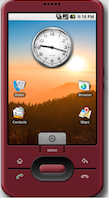 Specifically, are we going to have a data security and application robustness issue at the enterprise level?
The question could be made even more difficult to answer if we consider that many manufacturers embrace the "open" element of the Android proposition and develop what we might call "customised variants" of the operating system for their own implementations.
This is not the CIO's (let along the chief security officer's) dream environment. There may indeed be undeniable potential for cost savings, but encryption is harder to pin down when faced with a multiplicity of device controls, application interfaces and unstructured data types.
This "could" mean that mobile device management solutions are about to come to the fore.
Can we compile a list of the top ten mobile device management (MDM) solutions? Perhaps that's another story in its own right.
Players in this market today include Symantec, SAP Afaria (a Sybase acquisition), Smartman (a Sophos company) and also IBM with Tivoli IBM Endpoint Manager for Mobile Devices. But there are smaller up and coming names too like MobileIron, Zenprise and Fiberlink.
Does MDM go hand in hand for all CIOs with Android BYOD challenges? If it doesn't already, then surely it should, soon.
ADDENDUM: As a follow up to this story, the following comment is made by Neil Florio of Fiberlink, a cloud solution company focused on secure enterprise mobile device and application management.
"Perhaps the biggest concern to CIOs when considering Android adoption for BYOD, above data and user management, is encryption. Prior to the release of version 3.0 Honeycomb in 2011, Android devices did not have any kind of hardware encryption. Sadly, Honeycomb was solely for Android tablets," said Florio.
"A year later, close to 80% of the existing Android phones on the market are running Android versions that do not support encryption, with the most prevalent being versions 2.2 and 2.3. This presents a substantial risk for email, calendar, and contact information being compromised by prying eyes," he added.