Intel beefs up open source Raspberry Pi challenger and slashes price

Intel has beefed up its open source single-board computer and cut its price in half.
The Minnowboard Max features an open hardware design and is targeted at software application development pros and enthusiasts who want to code for the "deeply embedded" market.
Intel has slashed the Minnowboard price from US$199 to $99 (£60) — although distributor prices vary and not all have reflected the price reduction at the time of writing.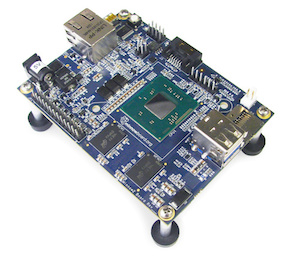 System-on-Chip (SOC)
Along with the price cut comes a more powerful Atom processor (64-bit Intel Atom E38xx Series SOC), integrated Intel HD graphics and a smaller overall footprint for the machine itself.
Minnowboard Max runs Debian GNU/Linux or Android 4.4 system — it is also Yocto project compatible.
NOTE: The Yocto Project is an open source collaboration project that provides templates, tools and methods to help create custom Linux-based systems for embedded products regardless of the hardware architecture.
Occasionally touted as a "Raspberry Pi challenger", Intel's Minnowboard Max is arguably better suited to the professional and hobbyist engineering space and is unlikely at this stage to make inroads into Raspberry Pi's popularity inside the education sector — although that success in itself has been questioned.
The Intel graphics chipset included here comes with open-source drivers so software developer/hackers can really play with a wide range of possible use cases for this machine.
MinnowBoard Max has two USB ports (one of them is now USB 3.0) and a microSD slot as well as 10/100/1000 Ethernet.
If the Raspberry Pi and its Broadcomm SOC with 700Mhz ARM processor had won over many of the hackers in this zone recently, then many would argue that Intel has placed Atom right back in the interest zone with these updates.