Intel Inside... and Underneath and Behind too?
Intel has been getting its hands dirty inside the mechanics of both cloud construction and software application development.
This is nothing new, the firm does this all the time; but this is the Intel that you won't be seeing on the pre-Christmas TV advertisements with its consumer-facing messages to tell us how well it drives Windows 8.
Cloud and big data chief (sorry, EMEA direct) for Intel is Alan Priestley and he talks volubly on deeper Intel.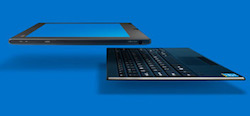 Priestley has recently pointed to the firm's Intel TXT Trusted Execution Technology, which is designed to help ensure that cloud-centric software application development environments implement what he calls "trusted compute pools" upon which to base service provider infrastructure and software.
Intel Underneath
His comments came in relation to analysing Infrastructure-as-a-Service cloud hosting providers' abilities to keep availability maximised.
"[When it comes to] business critical process, you may want to seek a provider that has appropriate guarantees and mitigation processes in place, or maybe even retains that process in-house," he said.
… and from that appetite whetting comment, Intel will then sell you TXT Trusted Execution Technology — a case of Intel not Inside, but Intel Underneath perhaps?
Intel Behind
Never knowingly not under-embedded, Intel is this week the Intel Media SDK 2013 for servers which now supports both Linux and Windows server operating systems.
NOTE: This SDK helps enable servers to deliver up to 12x the amount of simultaneous HD video streams over traditional software-only solutions.
According to Intel's ®-loving trademark team, "The SDK supports servers from major manufacturers running 4th generation Intel Core processors and the Intel Xeon processor E3-1200 v3 product family (formerly codenamed "Haswell") with Intel Iris Pro and Intel HD Graphics. It helps reduce total cost of ownership while enabling high-quality hardware acceleration for video."
If this is Intel Behind then, this SDK will work for software application developers looking to achieve "better server density" for real-time streaming, teleconferencing and video analytics.
Coming next, Intel On Top Of … #justkidding