Hello humanoids, this is the Open Source Robotics Foundation
The Open Source Robotics Foundation (OSRF) has recently been established in the San Francisco "bay area" as an independent non-profit org to promote the development, distribution and adoption of open source software for use in robotics research, education and product development.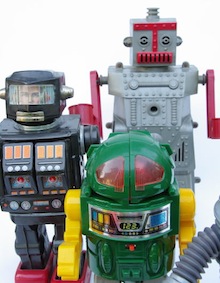 The OSRF's self-confessed mission is to establish a "worldwide collection of educators" as well as leaders and visionaries in the field of robotics.
Reports suggest that much of the most interesting work in the field of robotics has come from the open source community over the last decade.
As a discipline, "robotics" is also becoming a more popular school and university subject too.
The OSRF has been formed out of a group of robotics developers working on a robotics project that originated out of at Stanford University called Willow Garage.
Current projects in development at the OSRF include Gazebo, 3D multi-robot simulator with dynamics.
"[Gazebo] is capable of simulating a population of robots, sensors and objects in a three-dimensional world. It generates both realistic sensor feedback and physically plausible interactions between objects (it includes an accurate simulation of rigid-body physics).
NOTE: According to ROS.org the ROS (Robot Operating System) is licensed under an open source, BSD license to provide libraries and tools to help software developers create robot applications. It provides hardware abstraction, device drivers, libraries, visualizers, message-passing, package management and more.
HSR – Human Support Robot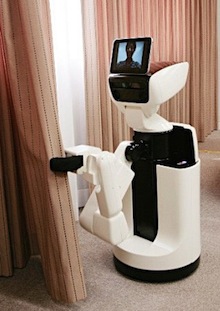 From the OSRF blog we learn the following:
"Toyota's Human Support Robot, or HSR, will provide assistance to older adults and people with disabilities. A one-armed mobile robot with a telescoping spine, the HSR is designed to operate in indoor environments around people. It can reach the floor, tabletops, and high counters, allowing it to do things like retrieve a dropped object or put something away in its rightful place. An exemplar of the next generation of robot manipulators, the arm is low-power and slow-moving, reducing the chance of accident or injury as it interacts with people."
Football playing robot
Other projects the OSRF has its eye on include Team NimbRo, an open source Linux-based open platform that supports ball perception, walking, kicking and getting-up of the floor motions.
You can watch a video of the robot playing football (soccer) here and see its lifelike motions.