Greenfield Linux growth is fertile growth area
The nonprofit Linux Foundation has this week released its 2013 Enterprise End User Report entitled "Linux Adoption: Third Annual Survey of World's Largest Enterprise Linux Users."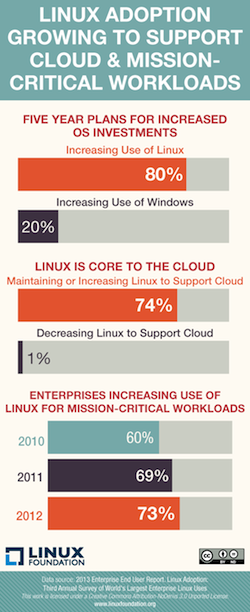 The study tracks the growth of Linux use in large enterprises and is said to identify key trends that will "inform" Linux operating system priorities.
Enterprise organisations identify Linux as the dominant platform for cloud computing with 76 percent using Linux servers for cloud and 74 percent planning to maintain or increase Linux use for future cloud initiatives.
The green green grass of open source
In the area of new applications, services and so-called greenfield deployments, more than 75 percent of organisations report deploying Linux in the last two years.
A dramatic increase in the use of Linux for mission critical workloads has grown consistently year-over-year to reach 73 percent in 2013 — reliance on Linux for cloud and big data is a strong contributing factor says the foundation.
Management's perception of Linux remains increasingly positive with 95 percent viewing Linux as equally or more strategic to the organisation than in prior years.
"We see the growing success of Linux adoption in the enterprise, especially as it's used for the most important areas of business, leading to the rise of Linux and collaborative development across many industries," said Amanda McPherson, vice president of marketing and developer services, The Linux Foundation.
"Having a realistic understanding of where Linux is gaining traction in the enterprise helps to inform vendors and users about how they can work together to advance Linux and the technologies it supports."
The full report is available online free of charge.
http://www.linuxfoundation.org/publications/linux-foundation/linux-adoption-trends-end-user-report-2013