Freshly squeezed: the Juice open source 'Media Aggregator'
A good solid scan of the open source newswires this week left me jumping around the web ultimately landing on the website for Juice. An open source 'Media Aggregator' program, Juice allows the user to download audio files from anywhere on the Internet to your desktop. 


If you are vehemently cross-platform and open source focused, then you'll be pleased to know that Juice is 
platform-independent, so you can use it from virtually any computer and play the files on any MP3 device. 

Juice allows the user to select and download files from any of the thousands of audio sources on the web. Users can select a feed or location and the application will download new files automatically, or at times specified by the user themselves.
Juice will then allow users to play audio files using iTunes or an other "jukebox" software.

Its makers highlight the product by detailing it as follows, "Juice is free because we want to allow open access to this new network. We feel this new way of getting content should be available for everyone, not controlled by commercial interests."
"Our software is "free software," part of the new paradigm of sharing across the Internet, and licensed under the GPL. If our code is used by other people in their software, their code also becomes open. A viral effect!"
But why would you bother with Juice when iTunes itself is free? That one should be easy — not everybody likes Apple (or Microsoft) now do they? Open source is about freedom obviously.
Not everybody likes Adobe and the company's approach to product pricing policies either now do they?
— and this is why products like Nitro Reader have been developed in the face of Adobe Reader and Acrobat.
Nitro Reader is not open source, but it does provide the ability to create and edit PDFs as well as add signatures.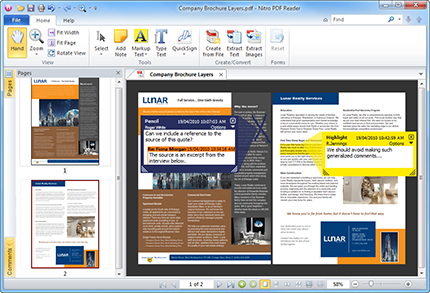 The company's PR function suggests that from a security perspective this product is interesting, saying that Adobe Reader was the most hacked product in 2009/2010.
"Nitro Reader addresses this by not running Shockwave and the ability to disable JavaScript – these two areas contribute to 90% of the route in for malicious hacking," says the company.
The moral of this story then? Keep your eyes open to ALL types of applications from all sources.