Facebook 'likes' (other firm's datacentre construction techniques)
Facebook's outstanding international reputation for information ownership and privacy develops one stage further this month.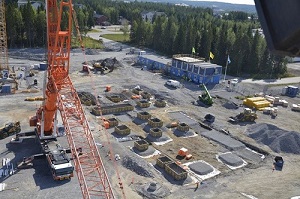 The social networking behemoth is being sued by BladeRoom Group, a British engineering company that claims Facebook has stolen its datacentre construction techniques.
BladeRoom claims to have championed modular datacentre design plans that employ prefabricated component parts.
The firm says it communicated with Facebook on its energy-efficient practises as far back as 2011.
The lawsuit points to Facebook's subsequent construction of its facility in the icy northernmost Swedish city of Lulea and says that this location was built, in part at least, to design plans inspired by the BladeRoom template.
Multiple news sources point to Facebook's explanation of its so-called 'Rapid Deployment Data Center' concept, based upon a repeatable component design philosophy. It is this precept that BladeRoom appears to have taken particular umbrage with.
BladeRoom further contends that Facebook initiated the Open Compute Project as a means of propagating and sharing this design theory, but while also taking credit for the initial Intellectual Property innovation kudos and ensuing community philanthropy.
According to IDG News Service, lawsuit details include the note that, "Facebook's misdeeds might never have come to light had it decided that simply stealing BRG's (BladeRoom Group) intellectual property was enough. Instead, Facebook went further when it decided to encourage and induce others to use BRG's intellectual property though an initiative created by Facebook called the 'Open Compute Project'."
BladeRoom is now seeking financial damages and an injunction to stop Facebook building with modular techniques. The firm will need to prove that it owns the rights to the concept of 'adding rooms on and building extensions' if it is to win its case. Meanwhile, Microsoft along with HP, Google, Amazon and others have been known to also employ extensive use of modular data centre design techniques in a space that is becoming increasingly muddied.
If BladeRoom's claims hold any water (and if Facebook has any solid culpability to be called out upon) the crux may hinge around the finer smaller details.
BladeRoom specifies that its construction concepts started out in relation to the construction of hospital buildings – and, crucially, IDG reports that a Facebook engineer presenting at the OCP Summit last January said that, "Lean construction approaches [of this kind] are often used in hospital buildings."
Something fishy may be going on and it's not just the herring in Sweden.
Images courtesy of https://www.facebook.com/LuleaDataCenter