Dropbox open sources Zulip chat app
File hosting service Dropbox, Inc has released its Zulip chat application under an open source Apache Foundation licence.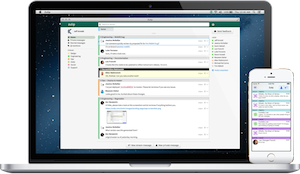 Open source group chat
Zulip is group chat application said to be 'optimised' for software development teams.
It was acquired by Dropbox in 2014 — https://zulip.org/
According to the firm's Tim Abbott, "At Dropbox, we love and depend on numerous excellent open source projects, and we consider contributing back to the open source community to be vitally important."
IRC & XMPP
Abbott contends that the world of open source chat has for a long time been dominated by IRC and XMPP.
"In comparison, Zulip starts with many useful features and integrations expected by software development teams today and has a well-engineered, maintainable codebase for those that are missing," he said.
Each Zulip chat conversation has a topic, which makes it easier to decide how much you want to engage with the discussion taking place.
In terms of operation, Zulip categorises messages so that they "never overwhelm" — as with any topic in Zulip, the user can focus in, skim, defer to later, or ignore — as appropriate.