Digital video's killer-app-factor: open source openness
The world of television and digital video needs more standards.
We already have a situation where we suffer under the incongruous six-way DVD world region code system, which has been developed as a Digital Rights Management (DRM) technique to allow film distributors to control disk prices, release dates and actual content.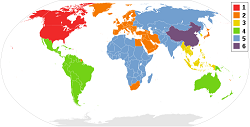 So is the web and Internet-based video content any better?
Not really, we still have a "situation" where no single universal world standard exists for all video formats to play to. Neither Windows, Mac OS X or any other pretender to the global video crown has truly won through in a sort of online "VHS beats BetaMax" kind of a way.
… and that is of course why we have VLC.
We have recently been treated to the version 2.0.2 release of this free and open source media player, with the new version covering both Windows and Mac OS X users with its updates.
Now already downloaded more than 100 million times, VLC will now offer "interface improvements" for the Mac OS X platform as well as better performance and "retina display" support.
According to the VideoLAN Organization (the body that oversees VLC) press page, "VLC 2.0.2 fixes the video playback on older devices both on MS Windows and Mac OS X, includes overall performance improvements and fixes for a couple of hundreds of bugs."
If you are a devout Windows or OS X user you may not have come across VLC thus far, although many Apple converts will have come to it via their use of the iPad (where it also performs well) if they extended their personal Apple ecosystem to the company's famed tablet device.
So what is VLC capable of playing now?

VLC can actually display everything from JPEGs and MP3 files to MP4 videos/movies and onward. The player is also compatible with MPEG-2, FLV Flash, DivX, H.264, MKV, WebM, and Window Media Video (WMV) files.
The VLC FAQ page at http://www.videolan.org/support/faq.html should answer any additional questions if you really intend to start playing around with multi-region disks and screen shots etc.
Where does video go from here?
Industry commentators have pointed out that Android plays a wider array of video formats that any Windows device or indeed Apple's iOS iPhone and iPad. So, by that argument, if we also accept that the future of digital video is on mobile, then future open source alignment between VLC and Android as an open operating system could potentially supersede any developments that Apple might have up its sleeve.
So what's the "killer-app-factor" in the video space then?
Users want the ability NOT TO HAVE TO CONVERT before they watch, that's all it takes.
Are we there yet? No, we're not.