Cross-device cross-platform incompatibility incongruence
There is now, it seems, a cross-device compatibility imperative rising.
We know this of course. Windows 8 is very much positioned as a 'desktop, to tablet, to mobile handset' cross-device operating system and Apple's iOS has (arguably) already been in this space for some time already.
Carrying this thought forward, we might argue that Android's 68 percent share of the mobile market means that users will now be looking for a reliable way to interchange data between Android devices and Macs or PCs.
The question is, with Microsoft plus Apple plus Android all potentially vying for a slice of the cross-device pie, will we run into a cross-device cross-platform incompatibility problem?
Paragon Software argues that the open-source community has been addressing storage interoperability issues for more than ten years now, creating drivers for various unsupported operating systems.
According to Paragon's example here, "NTFS-3G is a well-known solution used to enable read/write access to NTFS for Linux/Mac OS x/FreeBSD — and is available out of the box in many Linux distributions. Despite the fact that Android is based on Linux, it is not easy to run NTFS-3G on Android tablets, smartphones and media players."
There are two technical reasons for that says Paragon:
REASON 1: – One is that the Android security system prevents applications from accessing storage media directly, which is a must-have requirement for drivers. Therefore, user-installable file system drivers require rooting the device prior to their installation.
REASON 2: – The second reason (says Paragon) is that the Android storage management system is not as extensible as those running on desktop operating systems (e.g., Windows and Mac OS X)… and it does not allow using installable tools for transparent mounting of external storage.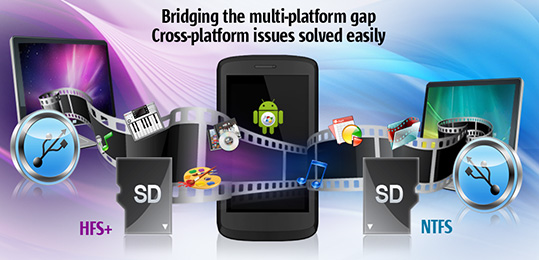 NOTE: Unfortunately, it appears, "storage management subsystem" improvement is not on Google's roadmap yet. Highly profitable Pay-Per-Click and commercially driven Search Engine Optimisation technologies are, however.
We can therefore surmise that an "additional effort" is required from the open-source community to enable automatic mounting of storage media and other aspects of user-friendly behaviour that Android users expect.
According to Paragon, "Despite all the effort vendors put into delivering cross-platform applications, the effort might be lost without storage interoperability between devices. One of the most-utilised media continues to be video. Many Android users have trouble playing video files on their new Android-based media player from a Mac-formatted portable HDD."
In this space then Paragon has developed NTFS & HFS+ for Android, a free technology that provides access to the most common file systems on Android devices that are normally not fully supported by native system drivers.
Cross-device cross-platform incompatibility incongruence is a problem then – and perhaps that sentence should have "interoperability" in it too. Efforts made at the open source layer will help, but we will (most likely) need some proprietary buy in here too.
… and proprietary focused behemoths just love working to solve cross-platform fragmentation issues don't they?