Could big data be used to avoid wars & conflicts?
When the Martians land on Earth and Google search a few major IT companies as their primary route of knowledge, they may find IBM's "About Us" pages a little perplexing.
Rather than a set of links to Big Blue's previous hardware-centric history and the firm's famous repositioning towards software and services, some of the first information the little green men will find is focused on what the company calls Smarter Planet.
An instrumented and interconnected world
IBM's WebSphere GM Marie Wieck has said that, "When we launched our Smarter Planet strategy nearly five years ago, our strategic belief was that the world was going to be profoundly changed as it became more instrumented, interconnected and intelligent."
So Smarter Planet has been boosted this week with IBM MessageSight, a software appliance designed to connect with all the big data being pumped out by mobile devices and sensors found in systems such as automobiles, traffic management systems, smart buildings and household appliances.
Wieck has gone on to claim that until now, no technology has been able to handle this volume of messages and devices.
So could we connect big data and analytics and do something really useful with it?
"[All this work so far] only scratches the surface of what's to come as we continue down this path of a Smarter Planet," said IBM's Wieck at this week's IBM Impact conference and exhibition in Las Vegas.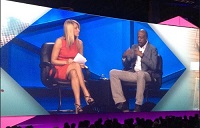 Hollywood actor Forest Whitaker joined one of the presentations this week to discuss his approach to movies, but also his apparent appreciation for big data and its potential wider use for the betterment of our planet.
We could envisage a time when big data could be used to predict when wars or conflicts are going to happen if it is fed into an analysis engine to provide the kind of insight needed here suggested Whitaker. The actor's humanitarian credentials are good as he is founder of the Peace Earth foundation and has also worked with groups like UNESCO.
If there is any substance in these ideas then these data flows need to be based upon open standards and made "interoperable at a web scale level" suggests IBM's Robert LeBlanc, senior VP for middleware software.
IBM's five point plan for software is therefore as follows:
1. Put mobile first
2. Reinvent (let's say re-engineer to be less vendor-speak) business processes
3. Adopt a flexible and secure integration model
4. Be insight and data driven (OK we promise number 5 is less corporate)
5. Build upon open architectures